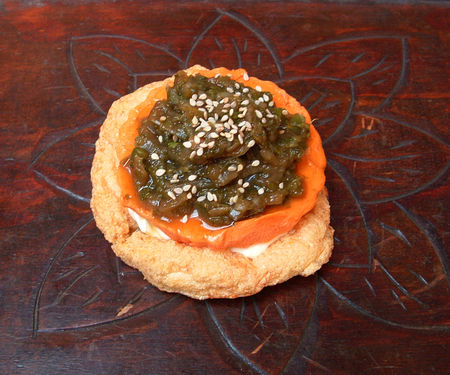 Parmesan pavlova:
Set the oven to heat at 180°C. Beat 4 egg whites until stiff. Sprinkle on top 1 tea of white vinegar and 1 tbs of maïzena. Gently fold in 1/2 cup of freashly grated parmesan.
Draw 6 10cm diameter circles on a sheet of wax paper and place it on a cookie sheet. Spread the egg whites in each of the circles creating a light depression in the center of each disk as to alow the cheesecake to sit safely apon it. Bake for about 1/2 hour or until golden. Leave the pavlovas to slowly cool in the oven left ajar.
Roasted bell pepper cheesecake:
Set the oven to heat at 200°C. Blend a few canned roasted red peppers with 3 drops of sesame oil. Add 200g cream chease and 3 egg yolks. Mix throughly. Pour the mixture into a silicone mini tartlette pan and cook " en bain marie" for 1/2 hour or until firm to touch. Set aside to cool
Green Chutney:
Chop 4 onions and fry them up in a pan until translucid. Add 1/4 cup of sugar and 1 cup of water, slowly cook down until you've got a jammy texture (add water and sugar if necessary). Set aside to cool.
Finely chop a large handfull of freash cilantro and a few mint leaves. Equally dice a few green chilies. Press the jus from 2 limes and add it to the chutney along with the herbs and chilies.

Stacking:
First place a pavlova on each plate. Spread a little sour cream on them. Delicatly extract a cheesecake and place it on top. Cover with some chutney and sprinkle on a few sesame seeds.