I just discovered just how good white aubergines are.
To die for.
A sweet and subtle buttery flavor will slowly win you over as they melt in your mouth.
First you have to roast your eggplants. Preheat the oven to 210°C. Then just slice them up into 1,5 cm pieces and place them on a cookie sheet (not too close or else they will steem and not roast). Drizzel some olive oil on top, salt, pepper and snip a few leaves of mint and basil into the pan as well. Bake for about a half an hour. There is no need to turn them over.
Cook some linguini "al dente" with some dried shallots in the boilling water.
If your carnivore needs them, fry up a few bacon bits (lardons) to mix in.
Toss the bacon and the aubergines into the pasta with maybe a little more olive oil.
Grate some freash parmesan on top and serve.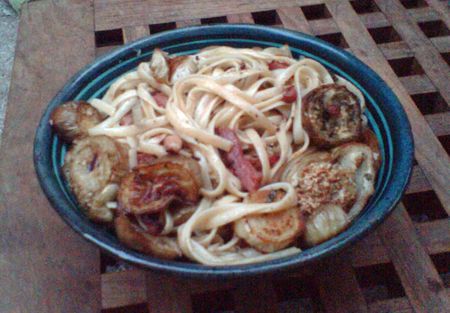 I got the idea of roasting the aubergines with mint from another blog .
Here's the link :
http://www.whiteonricecouple.com/recipes/roasted-eggplant-mint/
Thanks for the inspiration!