I've adored cinnamon buns for time unmemorable, those ooey- gooey snails that are always a bit too much. Since we can't find any here in france I've been planning for quite some time to make them but I never seemed to be able to get around to it. Well I did at last and I wasn't disapointed!
I used Nigella Lawson's recipe for Schnecken from How to be a domestic Goddess (I highly recomend this book). I had to make a few modifications due to the absence of certain ingrediants in my pantry.
The Dough :
First put 2 sachets of yeast to rise in a little warm milk with a tea of sugar. When the yeast starts to bubble add 150 ml milk, 75g melted butter and 2 eggs. Beat until well blended.
In another bowl combine 500g of white flour, 50g of sugar and 1/2 tea salt.
Slowly pour the egg mixture into the flour mixture. Mix thoroughly, then knead for 10 full minutes. When the dough is springy and satiny, form a ball, put into an oiled bowl and cover. Leave in a warm place for 1 hour or until doubled in size.
The Syrup :
Beat with an electric mixer 125g unsalted butter until smooth. Then still beating add 2 tbs unrefined brown sugar, 4 tbs of maple syrup, 1 tbs molasses add 2 tbs of honey. Pour into the bottom of your baking dish. Top with chopped walnuts or pecans.
Preheat your oven to 180°C.
When the dough is ready knead it down a bit and roll out to a large rectangle (60 x 30 cm). Beat 1 egg and 2 tbs milk . Glaze the dough with a pastry brush (I forgot this step).
The Filling :
Mix 50g of vanilla flavored sugar with 100g of unrefined brown sugar and 1 tbs of cinnamon. Sprinkle this mixture onto the dough.
The Baking :
Now carefully roll into a sausage.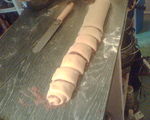 Cut into 12 even slices and lie each slice swirly side up into the baking dish on top of the syrup and nuts. Leave to rise once again until nice and puffy (about 20min).
Bake for 20-25 min.
They should be " crisp in parts, voluptuously gooey in others". Place a baking sheet on top and turn the whole thing upside down. BE CAREFULL! The hot syrup should drizzel down the swirls as a finishing touch to this baking perfecion! Leave to cool or not ! :)
En français...
La Pâte :
Mettre deux sachets de levure boulangère dans un bol avec un peu de lait tiède et une cuillère à café de sucre. Mélanger et laisser reposer 10min. Quand la levure commence à faire des bulles ajouter 150ml de lait, 75g de beurre fondu et deux oeufs. Bien mélanger.
Dans un autre bol mélanger 500g de farine, 1/2 cuillère à café de sel et 50 g de sucre.
Incorporer lentement les oeufs à la farine. Pétrir pendant 10 bonnes minutes. Quand la pâte est élastique et satinée, former une boule et placer-la dans un bol huilé et recouvrir d'un torchon propre. Laisser lever pendant une heure ou jusqu'à ce qu'elle ait doublé de taille.
Le Sirop :
Battre 125g de beurre doux jusqu'à il soit lisse. Incorporer 4 cuillères à soupe de sirop d'érable, 1 CS de mélasse, 2 CS de miel et 2 CS de rapadura.
Verser dans le plat et parsemer de noix ou de noix de pecan concassées.
Préchauffer le four à 180°C.
Quand la pâte est prête retourner le bol sur votre planche de travail, pétrisser la un peu puis étaler pour former un rectangle d'environ 60 x 30 cm. Fouetter 1 oeuf et 2 CS de lait et glacer la pâte de ce mélange. ( J'ai oublié cette étape, zut!)
La Garniture :
Faites un mélange de 50g de sucre vanillé, 150g de rapadura et 1CS de cannelle. Parsemez-en la pâte.
La Cuisson :
Rouler délicatement la pâte pour former une saucisse. Couper en 12 parts égales et placer chaque portion, spirale vers le haut sur le sirop et les noix. Couvire et laisser de nouveau lever la pâte pour environ 20min.
Enfourner et cuire pour 20-25min.
Ils devraient être "croustillants par endroits et voluptueusement sirupeux par d'autres".
Placer une plaque à biscuits sur le plat et renverser le sur l'envers. Dégager délicatement le plat, le sirop du fond devrait maintenant être entrain de s'écouler langoureusement le long des spirales.
Laisser refroidir...ou pas! :)