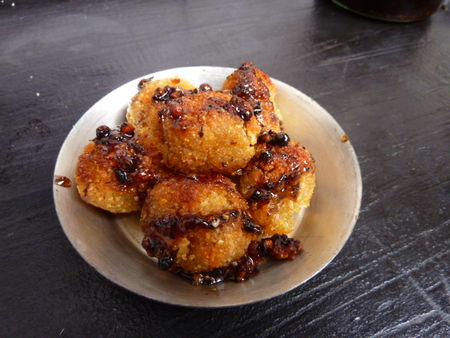 When I was 13 years old I started to study latin. Being a history geek I loved the subject even if my teacher seemed as old as the language itself. I loved imaginging myself in some far off distant past as celtic warrior or a student to some famous philosopher. But history has always been more exiting to me when it becomes real, palpable, edible! Indeed one of my most vibrant memories of this class is of the time when a friends of mine made a roman dessert and brought it to class to share with us. They were a kind of fritter drenched in honey and pepper. The pepper totally countered any nauseating feeling too much honey could have caused.
It was combo of those two flavors really opened my young mind to the posiblities of cooking. It seems odd that I've waited nearly 15 years to try the recipe. Well, not quite the same one, a mix of two different roman desserts with of course a dash of my own imagination.
Pepper syrop:
2 cups of Water
1 cup sugar
2 tbs mixed peppers : black pepper, long pepper, tailed pepper, jamaican chilli pepper, maniguette, séchouan pepper
Bring the water to a boil. Add the sugar and the spices. Cook down to a nice thick syrop. When cool pour into a jar. This keeps for quite some time in the refrigerator.
Deep fried Aliter Dulcia :
1 cup polenta
1/2 grounded almonds
1/2 grounded hazelnuts
3 tea baking powder
1/4 tea salt
4 tbs vanilla sugar
1 cup warm water
3 tbs powdered milk
3 tbs sunflower oil
Mix the six first ingredients together in a bowl.
Disolve the powdered milk into the water ( If you have milk you can use it instead of these two ingredients).
Add the oil.
Pour the liquide into the dry mixture.
Stir vigourously until the two are well combined.
Let stand for about 15 min. Start to heat up oil in a deep pan to fry the alter dulcia in.
Shape the dough into 1" diameter balls.

Gently slip 5 or 6 into the hot oil. Fry until golden brown.
Once cooked place on some paper towels to absorbe the extra oil.

Procede the same way until all the treats are cooked.
Serve immediatly or you can also put them aside and reheat them quickly in a very hot oven before serving. Finish by topping the hot fritters with the pepper syrop.
En Français...
J'ai commencé à étudier le latin quand j'avais 13 ans. Etant une geekette pour l'histoire j'ai adoré le sujet malgré un prof qui semblait aussi poussiéreux que la langue. J'aimais à m'imaginer dans quel passé lointain comme une guerrière celtique ou encore disciple de quelque grand philosophe. Cependant l'histoire m'a toujours paru plus passionnant quand il était plus réel, plus palpable, plus comestible! En effet un de mes plus vif souvenirs de ce cours fut la fois ou une camarade de classe avait fait un dessert romain et l'avait amener en cours pour nous le faire découvrir. C'était un genre de beignet couvert de miel et de poivre! Le poivre contrecarrait superbement le côté écoeurant du miel.
C'est la combinaison de ces deux saveurs qui à ouvert mon esprit aux possibilité qu'offre la cuisine. Cela me semble étrange que j'ai attendu presque 15 ans pour tenter cette recette. Enfin pas toute à fait le même, un mélange entre deux différents desserts romain et une touche personnelle, évidement.
Sirop aux poivres:
2 tasses d'eau
1 tasse de sucre
2 cs de poivres moulues: poivre noir, poivre long, piment de Jamaïque, maniguette, poivre à queue, poivre de séchouan.
Faites bouillir l'eau. Ajouter le sucre et les épices. Réduire jusqu'à obtenir un sirop épais. Une fois refroidi verser dans un bocal en verre. Ce sirop se conserve assez longtemps au frigo.
Beignets Aliter Dulcia:
1 tasse de polenta
1/2 t d'amande en poudre
1/2 t de noisettes en poudre
3 cc de levure chimique
1/4 cc de sel
4 cs de sucre vanillé
1 t d'eau chaude
3 cs de lait en poudre
3 cs d'huile de tournesol
Mélanger les premiers six ingrédients dans un bol.
Dissoudre le lait en poudre dans l'eau chaude. (Si vous avez du lait vous pouvez l'utiliser au lieu de l'eau et le lait en poudre)
Ajouter l'huile.
Verser le liquide dans le mélange sec. Mélanger vigoureusement jusqu'à obtenir une pâte homogène.
Laisser reposer un quart d'heure.
Faite chauffer l'huile à frire.
Former des boules de 2,5cm de diamètre.
Délicatement introduisez-en 5-6 dans huile chaude. Cuire jusqu'à ce qu'elles soient dorées. Faites en de mêmes avec les autres.
Une fois cuites déposer les sur du papier absorbant pour enlever l'excédant d'huile.
Vous pouvez soit les servir immédiatement ou encore les réchauffer plus tard dans un four très chaud pendant 5min.
Avant de servir napper d'un peu de sirop aux poivres