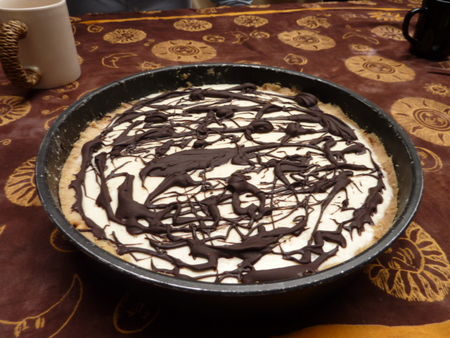 This recipe is very easy and very satisfing.
It's a real winner, if you need to bribe somebody this will deffinetly help!
Crust:
Finger mix this directly in the pie pan. When it has well come together pat into place.
125g chilled butter chopped up
2.5 cups flour
1/8 tea salt
3 tbs sugar
Chocolate middle:
Melt the first 5 ingredients in a saucepan. When the mixture is smooth remove from the heat and whisk in the 2 eggs.
Pour into the pie crust. Bake for about 20min until the chocolate bubbles and is slightly firm. Cool on a rack until completly chilled.
200g black chocolat
125g butter
1/2 cup sugar
1/4 tea salt
1 tea vanilla
2 eggs
Panacotta layer:
Infuse the vanilla in the cream. Let it simmer for a few minutes. Scrape the bean's seeds into the cream.
Mix in the agar agar or the gelatine. Pour on top of the chocolate pie, the panacotta will set as it cools.
60ml cream
2" of vanilla bean
vanilla sugar
1 tea agar-agar or 4 sheets of gelatine
Chocolate swirl topping:
Melt some black chocolate and dribble onto of the completly chilled pie.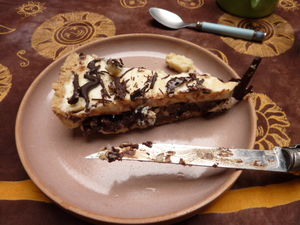 En Français...
Cette recette est très simple et très satisfaisante.
C'est un succès à tout les coups, si vous êtes en manque d'arguments ceci peut aider à convaincre la partie inverse!
Pâte sablée:
Mélangez à la main directement dans le plat à tarte. Quand le tout est bien mélangé tapoter en place.
125g be urre froid coupé en petit pois
2.5 farine
1/8 tea sel
3 tbs sucre
Fondant au chocolat:
Faites fondre les 5 premiers ingrédients dans une casserole. Quand le mélange est bien soyeuse éloigner du feu et ajoutez-y 2 oeufs.
Verser dans le moule. Faites cuire pour environ 20min jusqu'à ce que le chocolat fasse des bulles et qu'il soit ferme sous les doigts (attention à ne pas se bruler!). Laissez refroidir complètement.
200g chocolat noir
125g beurre
1/2 cup sucre
1/4 tea sel
1 tea essence de vanille
2 oeufs
Couche de Panacotta:
Infusez la vanille dans la crème. Laissez bouillir quelques minutes. Raclez les grains de vanille dans la crème.
Ajoutez l'agar agar ou la gelatine. Verser sur le fondant refroidi, la panacotta se figera en refroidissant.
60ml crème liquide
5cm de gousse de vanille
sucre vanillé
agar-agar ou gelatine
Spirales en chocolat:
Faites fondre du chocolat noir et faites des spirales sur la tarte complètement refroidie.