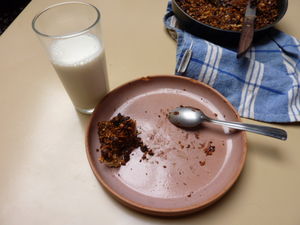 Crust:
Finger mix all the ingredients directly in the small pie pan, pat down. Blind bake for about 15 min at 180°C.
1 cup flour
75g chopped and chilled butter
1 1/2 tbs sugar
a pinch of salt
Nut fudge :
Mix all the ingredients until smooth in a bowl then spread on to the precooked crust.
2/3 cup peanut butter
1/3 cup hazelnut butter
a pinch of salt
1/4 cup water
1 tbs sugar
Chocolate ooze:
Squeeze these into the nut fudge.
100g of black chocolate squares
Topping:
Sprinkle chopped lightly roasted hazelnuts on top of the pastry.
Bake for about 15min at 180°C. Always serve warm with a tall glass of milk.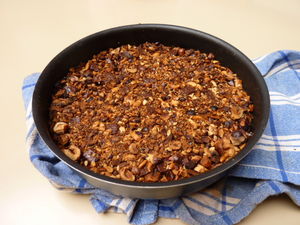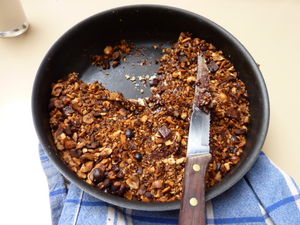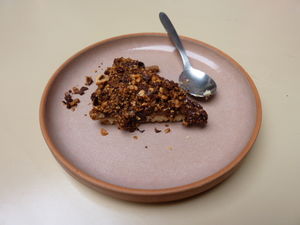 En Français...
Pâte sablée:
Mélangez à la main directement dans le plat à tarte. Quand le tout est bien mélangé tapoter en place. Pré-cuire pour environ 15min à 180°C.
75g beurre froid coupé en petit pois
200g farine
une pincée de sel
1 1/2 cs sucre
Fondant des écureuils :
Mélanger tous les ingrédients puis étalez sur la pâte pré-cuite.
2/3 de tasse de beurre de cacahuète
1/3 de tasse de beurre de noisette
une bonne pincée de sel
1/4 de tasse d'eau
1 cs sucre
Tranchée au chocolat:
Enfoncez 100g de carrés de chocolat noir dans le Fondant des écureuils
Croute :
Parsemez des noisettes grillées et concassées sur le dessus de la tarte.
Cuire pour environ 15min à 180°C. Servez toujours chaud avec un grand verre de lait