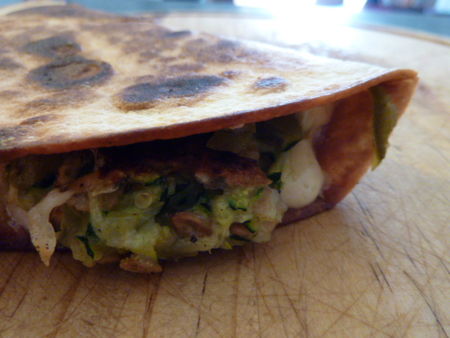 Mix in a big bowl :
1 grated zucchini
1/2 cup chopped green olives
1/4 cup oatmeal
3-4 tbs potato flour
1 egg
salt and pepper to taste.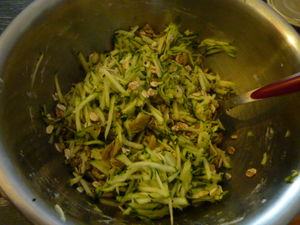 Scoop up about 1/4 cup of the mixture and place in a frying pan. Fry in sunflour oil for about 5min on each side or until golden brown.Yields 8 mideum sized patties.
Serve with melted cheese (mimolette or gouda) and jalépenos in a tortilla or on a hamburger bun.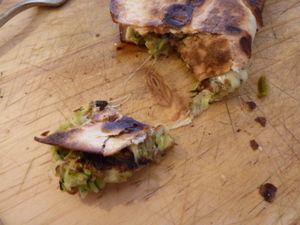 En français...
Mélangez dans un saladier les ingrédients suivants :
1 courgette rapé
1/2 tasse d'olives vertes hachées
1/4 tasse de flocons d'avoine
3-4 cs de farine de pomme de terre
1 oeuf
Assaisonnez en sel et poivre
Formez les galettes directement dans la poêle, 2 à 3 cs par galette. Faites frire dans de l'huile de tournesol pendant 5 min de chaque côté ou jusqu'à ce qu'elles soient dorées. Cette recette fait environ 8 galettes.
Servir avec du fromage fondu (mimolette ou gouda) et des piment jalépenos dans un tortilla mexicain ou encore dans un pain d'hamburger.