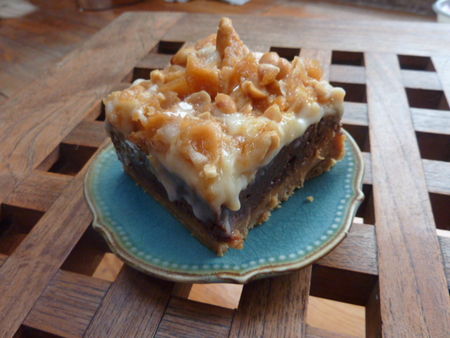 Cookie crust:
Crumble 1 pack of McVities digestive cookies into a baking dish. Add 150g of chopped up butter. By hand mix together until sandy. Pat down at the bootom of the pan. Set aside.
Brownie:
Melt 200g of dark chocolat with 100g of sugar and 200g of unsalted butter. Wisk in 2-3 eggs. Add 200g of flour, 50g at a time. Mix in one pack of baking powder and a 1/4 tea of salt. Pour into the baking dish.
Peanut butter goup:
Wizz one 200g pack of salted peanuts in a food procesor until you obtain peanut butter. (The more you wizz the more liquid the butter will become). Add 100g of unsalted butter. Mix in by hand 20ml of cream, 50g of sugar, 1/4 tea of salt. Generously dollop scoops of this stuff on top of the brownie, use a knife to swirl it in. Bake for about 20min at 200°C. Set aside to cool.
Frosting:
Cream together 2 packs of cream cheese, 1 tea of vanilla, 50g of unsalted butter and 1-3 cups of powderded sugar. Frost the cool cake and then place into the fridge to set the frosting.
Carmel crunch
Place salted peanuts (about half a pack) on a greased cookie sheet, I use one of those silicom cooking mat it works fanasticly.
Prepare 1 tea of vanilla and 1/4 tea of baking soda, set aside.
Heat 200g of sugar, 1/2 cup of butter and 2 tbs of water in a saucepan. Cook until the carmel reaches the hard crack state (test in a cup of water). Remove from the heat and stir in immediatly the vanilla and the baking soda.The mixture will foam upwards, stir vigously but BE carefull carmel burns can be really bad.
Pour on top of the nuts. Let the carmel cool down to room temperature. Bash up the brittle with a rolling pin. Sprinkle on top of the frosted cake.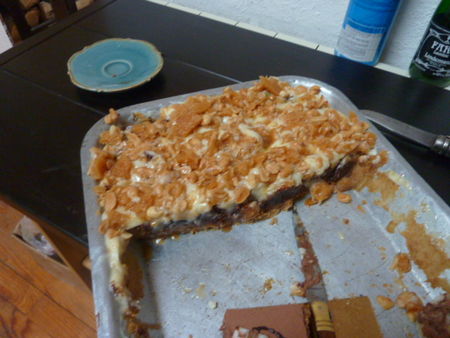 En français...
Une pâte biscuitté:
Ecrasez 1 paquet de McVities digestive cookies dans un grand plat à gratin. Parsemez dessus 150g de beurre coupé en petits dés. Mélangez à la main pour obtenir une pâte sablé. Compressez ce mélange au fond du plat. Mettre de côté.
Brownie:
Faites fondre 200g de chocolat noir avec 100g de sucre et 200g de beurre. Battre et incorporez 2-3 oeufs. Ajoutez 200g de farine, seulement 50g à la fois. Ajoutez maintenan un sachet de levure chimique et 3 pincées de sel. Versez dans un grand plat
Fondant au beurre de cacahuète:
Mixez un paquet de 200g de cacahuètes salées dans un mixeur jusqu'à ce que vous obtenez du beurre. (Plus vous mixez plus le mélange va devenir liquide). Ajoutez 100g de beurre.Incorporez à la main 20ml de crème liquide et 50g de sucre. Disposez sur le brownie de généreuses cuillièrées de ce mélange, utilisez un couteau pour dessiner des spirales et le mélanger un peu au brownie. Cuisez pour 20min à 200°C. Laissez refroidir.
Glaçage:
Au fouet éléctrique mélangez 2 paquets de fromage frais, 1 cc d'essance de vanille, 50g de beurre et 1-3 tasses de sucre glace. Glacez le gâteau refroidi et puis placez le au frigo pour que le glaçage se fige.
Croquant au caramel cacahuèté
Etalez des cacahuètes salées (environ la moitié d'un paquet) sur une surface plane et graissée (j'utilise une de ces tapis en silicon)
Preparez 1 cc d'essance de vanille et 1/4 de cc de bicarbonate de soude, posez de côté.
Faites fondre 200g de sucre, 100g de beurre et 2 cs d'eau dans une casserole. Cuisez jusqu'à ce que le carmel atteigne reaches the hard crack state (test in a cup of water). Eloignez du feu et incorporez immédiatement la vanille et le bicarbonate. Le mélange va mousser et s'élever, mélangez vigoureusement mais faites attention les brulures causées par le caramel sont moches.
Versez sur les cacahuètes. Laissez le caramel refroidir à la température ambiante. Cassez le carmel en petit morceaux avec un rouleau de patissier. Parsemez sur le gâteau glacé.