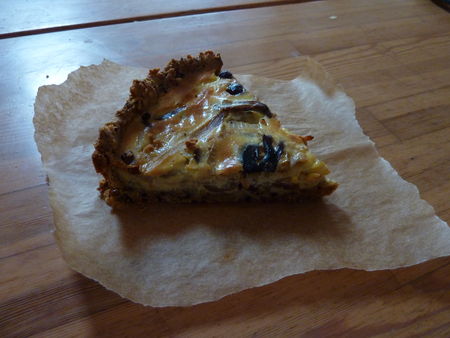 For me a good quiche is about two things: A. the dough and B. the silky texture of the egg mixture
In this recipe I wanted to play with the dough. I didn't want a flaky puff pastry nor the savory crumble of "pâte brisé", I wanted something... crunchy. And that is how the breadcrumbs crust was born. Incidently I also had a lot of breadcrumbs that I needed to use...
The dough was made in my food processor and this is how I did it:
Mix: 1 cup of chickpea flour, 1 cup of bread crumbs, 1/2 tea of salt, 1 tea of oregeno.
Sprinkle in 3 tbs vegtable broth (cold water would do fine) and 1/2 cup of chopped up cold unsalted butter.
Pulse until the dough comes together. Line your pan with parchement paper, scoop your dough into the pan and pat into place, on the bottom and on the sides of the pan. Set aside.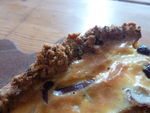 I ganished my quiche with onions and mushrooms but you can put almost anything in, what's important is you don't want your ingrediants to render too much water. That's why I sauté my ingrediants first.
So please sauté 2 sliced up onions with 1 cup of mushrooms (I had a jar of mixed wild mushrooms in the pantry) and two diced cloves of garlic in some olive oil. When the onions are translucent and the mushrooms slightly crispy, garnish the crust with this mixture.
As for the egg mixture, whip 2 eggs with 20cl of cream. Normally I add 20cl of milk but since I didn't have anymore I used 2 tbs powdered milk mixed into 20cl of water. Season with pepper, salt and some nutmeg.
Now here a trick I learned from my dear friend David: cook your quiche at a very low temperature to obtain perfect silkyness. So slow cook the quiche at 160°C max for, I think, 40min. Or until it looks done!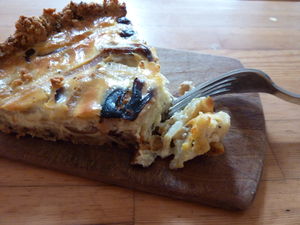 En français...
Quiche aux oignons et aux champignons dans une pâte à la chapelure

Pour moi une bonne quiche tient à deux choses: A. la pâte et B. l'onctuosité de l'appareil à quiche.
Dans cette recette je voulais m'amuser avec la pâte. Je n'étais pas intéressée par les délicates écailles d'une pâte feuilletée ni les miettes savoureuses d'une pâte brisée, non je voulais quelque chose de... croustillant. C'est ainsi qu'est né la pâte à la chapelure. Et puis, c'est vrai que j'avais pas mal de chapelure dans le garde manger...
La pâte a été réalisée dans mon robot mixeur, mais la bonne vieille cuillère fonctionne aussi:
Mélangez 200g de farine de pois chiche, 200g de chapelure maison, 1/2 cc de sel et 1 cc d'oregan.
Arrosez de 3 cs de bouillon de légumes (de l'eau froide pourrait très bien fonctionner ici) et de 100g de beurre coupé en dés.
Mélangez jusqu'à ce que la pâte. Transférez la pâte dans un plat que vous aurez recouvert de papier sulfurisé. A la main, tapotez la pâte en place, au fond et sur les bords du plat. Mettre de côté.
J'ai choisis de garnir ma quiche d'oignons et de champignons mais vous pouvez mettre ce que vous voulez, enfin presque. La seul chose à savoir c'est qu'il ne faut pas que les ingrédients rendent trop d'eau, c'est pour cela que j'ai sauté mes ingrédients avant de les mettre dans la quiche.
Donc faites rissoler 2 oignons coupés en rondelles avec 1 tasse de champignons (J'avais un bocal de champignon des bois dans le garde manger) et deux gousses d'ail hachées dans de l'huile d'olive. Quand les oignons sont translucides et les champignons sont dorés transférez dans la pâte.
Quant à l'appareil, battez 2 oeufs avec 20cl de crème liquide. Normalement j'ajoute 20cl de lait mais je n'en avais plus donc j'ai utilisé 2 cs de lait en poudre dans 20cl d'eau. Assaisonnez avec du poivre, du sel et de la muscade.
Maintenant voici une petite astuce que j'ai appris de mon bon ami David: cuisez la quiche à très basse température afin d'obtenir une texture onctueuse. Donc faites cuire la quiche pendant environ 40min, ou jusqu'à ce que cela ait l'air cuit, dans un four à 160°C et pas plus!