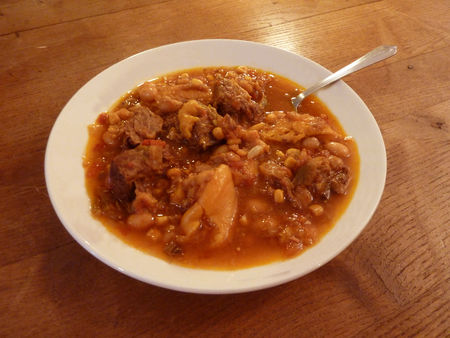 Slice up 2 onions, 2 sweet onions and 2 cloves of garlic. Fry these up in 2 tbs of olive oil and 1tbs of sunflower oil in a big pot. When transparent add your beef, I used 3 plat de côtes I'm sorry but I have no idea what this piece of meat is called in english, this cut is situated near the ribs. Fry until golden. Pour in 1 to 1.5l of homemade vegatable broth, if you must use premade stuff don't add any salt. Lower tha heat. Now you can add some frita and some canned corn kernels (fresh corn would be so much better but you can't get any where I live). Frita is a classic "pieds noir" dish made of tomatoes and roasted red peppers, so if you're not lucky enough to have a grandma that makes it and cans it for you, you may use a large can of pealed tomatoes and 2 or 3 red peppers. (roast these whole in the oven for about a half and hour then stick into a plastic bag the skins will come right off, seed and chop up befor adding to the stew). Salt and add chili powder to your taste. Put on a lid and slow cook in the oven for about 4 to 5 hours at 140°C.
One hour before serving take out the bones (they're qquite big), normal at this point in time the meat should come right off. Now you can add a jar of white beans and the syrop of a can of peaches. Cut the peaches into quarters and add these only a half an hour before serving but be carefull not to stir too much after that as to not destroy the peaches!
You might want to remove some of the fat that has surfaced during the cooking. To do that the stew needs to cool down completely, it's then easy to remove the fat, store it in an airtight container for other uses.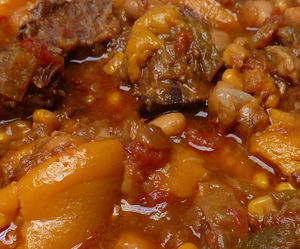 En Français...
Un Ragout de Boeuf Aigre-doux
Emincez 2 oignons jaunes, 2 oignons doux et 2 gousses d'ail. Faites revenir tout ça dans 2cs d'huile d'olive et 1 cs d'huile de tournesol dans une grande cocotte à feu moyen. Rajoutez 3 plat de cotes, quand ils sont dorés versez par dessus 1l à 1.5 l de bouillon de légumes maison (si vous utilisez un bouillon cube ne rajoutez pas de sel). Baissez le feu. Rajoutez maintenant de la frita et 1 boite de 200g de maïs. La frita est un plat pieds noir composé de tomates et de poivrons rouges grillés donc si vous n'avez pas une grandmère qui vous prépare des conserves de frita ;p utilisez une grosse boite tomates pelées et 2 ou 3 poivrons rouges. Salez et assaisonez de poudre de chili selon vos préférences personnelles. Faites cuire à cuisson lente dans le four pendant 4-5h à 140°C.
Une heure avant de servir enlèvez les os, normalement à ce stade la viande se détache très facilement. Incorporez maintenant deux grosses boites d'haricots blancs et le sirop d'1 grosse boite de peches. Coupez les peches en quartiers et ajoutez-les une demi-heure avant de manger mais attention de ne pas trop remuer après ça, car on ne veux pas démollir les peches!
Vous aurez peut-être envie d'écumez un peu de la graisse qui reste en surface et la mettre de côté pour d'autres utilisations... ceci est plus facile une fois le ragout refroidi.