This was my second daring bakers challenge. I was so exited when I learned it was making homemade filo pastry for baklava, one of my very favorit deserts. Unfortunetly this has been a very challenging month so I only made it once, yesterday, just before the due date.
But I will be tring this again when I have more time, sigh, one day...
So here we go:
The pastry:
1 1/3 cup flour
1/8 salt
1/2 cup water minus 1 tbs
2 tbs vegtable oil
1 tea cider vinegar
Mix the dry ingredients, then mix the wet ones, then mix both of them together. Knead for about 20min until springy...I love kneading...
Leave the douugh to rest/ chill for about two hours
The syrup:
During this time make the syrup, to do so mix in a sauce pan:
1 cup white sugar
3 tbs jagerry
1 tbs of honey
the peel of one manderine
1 cinnamon stick
1 1/4 cup of water
Boil for ten minutes. then set asxide to cool. When cool add 1 tea rose water and 1 tea orange blossum. Keep ready for when the pastry come out of the oven.
The filling:
1 cup crushed toasted almonds
1 cup toasted powdered hazelnuts
3 tbs jaggery
5 tbs spiced sugar
a pinch of salt
Time to put it all together...
Preheat the oven to 180°C.
Take a golfball size wad of the dough and start rolling in out as thin as you can get it, each sheet of filo should be transparent. Now there is a special technique but so far I'm no good at it so I'm not going to discribe it... Use as much flour as necesary and remember to flour in between each sheet as you set them aside and cover them all with a clean damp dish towel. Roll out all the dough
Melt 100g of butter.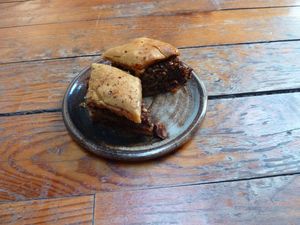 Brush the bottom of a baking dish with the butter. Trim the sheets to be the size of the baking dish by setting it apon the stack of filo and using it as a template.place you 1st sheet of filo into the pan and brush it generously down with butter. Do so for he 4 next layers. Now add half of your nut mixture, spread it out evenly. For the middle layers of filo you can use the scraps of pastry you cut away. Crumple them up and lather in butter. the spread on the other half of the nuts. After layer on the rest of the filo, buttering in between each layer. Keep one that is not ripped for the top. Tuck in the sides to make it look neat. Precut the 1st layer of dough. Butter again. Bake until golden brown.
As soon as you pull it out of the oven pour on the cool syrup. Do not worry if it looks messy it will all be absorbed.
Leave the baklava to rest untill the next day.
Cut the rest of the way through the pastry serve on danty plates with tea.