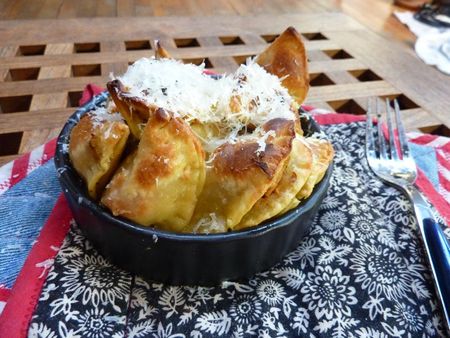 I made these as my first Daring Cooks Chalenge. I was very busy at the time so I was a bit late in post the pictures for this recipe, sorry!
The Dough:
Pour 300g of flour and 1 tea of salt on to your counter and make a well in the center.
Crack 2 eggs into the well.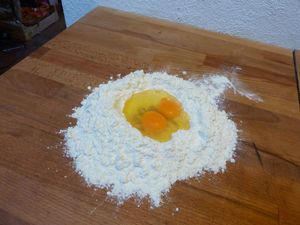 Then add 3 tbs of olive oil.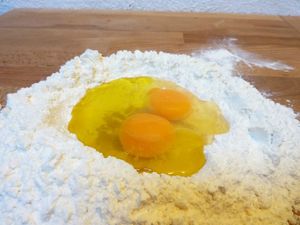 Start mixing the dough by hand.
Because I found the dough a bit dry I added 2 egg yolks (frozen) and a little water(1-3tbs).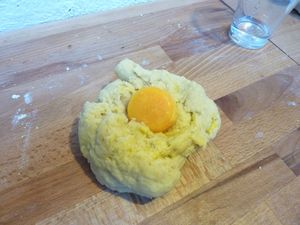 Keep on kneading until the dough is shiny and springy.
Leave the dough to rest while you prepare the filling.
The Filling:
Slice 4 very small eggplants and drizzle with some olive oil. Roast for about an half an hour or until tender. Remember to cover the tray with some aluminium foil to prevent the eggplant from dring out.
Slice up 2 mergezes and add to the eggplant.
Add some parsley and some dried celery leaves.
When the mixture is cooked there should be a lot of extra juices and fat: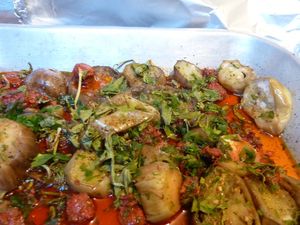 Now it's time to mix in 1/3 cup of almond powder, a pinch of chili powder and salt to taste. Mash-mix it all together, it's not so pretty but it's really good!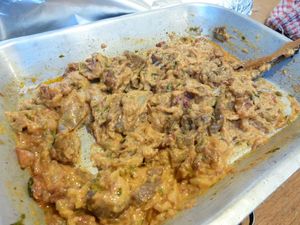 Putting it all together:
Flour your counter, then take a tennis ball size wade of dough. Roll it out as thin and as evenly as possible. I used a cup to cut out circles. Place about 1 tea of filling in the center of each disk.
Fold the disks in half and pinch the sides together. Be carefull not to let the mixture touch the rims of the disks or else it will be hard to pinch them close.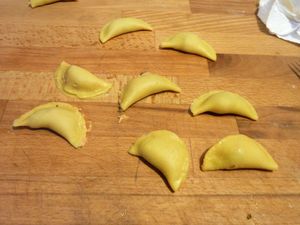 To be sure they do not open while cooking and also to make them look prettier press a fork down along the edges.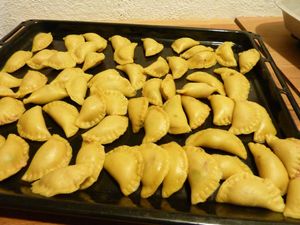 They are ready to be cooked!!:
Boil some water with a pinch of salt and a drizzle of olive oil. Gently place a few of the ravioli in the pot, do not crowd them, they cook quickly, once they rise to the surface wait for about 3 min then take them out with a slotted spoon. Repeat until all the ravioli are cooked.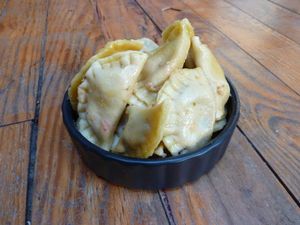 ...The next day I baked the cooked ravioli with a litthe parmesan cheese. I actually prefered them served this way!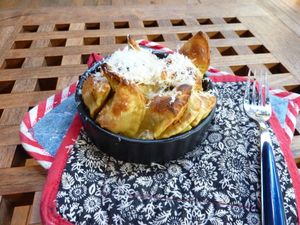 ... En Français...
Ravioli du Moyen Oriant
La Pâte:
Déversez 300g de farine et 1 cc de sel sur le contoir et faire un pluit au centre.
Cassez 2 oeufs au centre. Puis ajoutez 3 cs d'huile d'olive.
Commencez à mélanger à la main.
Puisque j'ai trouvé que la pâte était un peu sèche j'ai ajouté 2 jaunes d'oeufs (congelés) et un peu d'eau (1-3cs).
Pétrissez la pâte jusqu'à ce qu'elle soit brillante et élastique.
Formez une boule, couvrez et laissez reposer le temps que vous faites la garniture.
La Garniture:
Couper en rondelles 4 très petites aubergines, arrosez d'un peu d'huile d'olive. Faire cuire au four pour à peu près une demi heure ou jusqu'à ce qu'elles soient tendres. Pensez à couvrir le plat d'un peu d'alu afin d'éviter que les aubergines ne se désèchent.
Découper 2 mergezes et ajoutez aux aubergines. Ajoutez égalemnt un peu de persil et quelques feuilles de celery sèchées.
Quand le mélange et cuit, normalement cela aura rendu pas mal de jus et de graisse, c'est bien!
C'est mainetent le moment d'incorporer 1/3 de tasse de poudre d'amande, un peu de piment en poudre et du sel.
Mélangez le tout en écrasant avec le dos de la fourchette. Ce n'est pas très beau mais qu'est-ce que c'est bon!
Garnir les Raviolis:
Farinez votre contoir, puis prennez un peu de pâte. Etalez la aussi finement et régulièrement que possible. J'ai utilisé un verre pour découper des cercles. Placez à peu près 1 cc de garniture au centre de chaque disque. Plier les disques en deux et pincez les bords ensemble. Attention de ne pas mouiller les bords avec la garniture sinon les raviolis ne fermeront pas bien! Afin d'être certain qu'ils ne s'ouvrent pas durant la cuison et pour les décorer un peu, apuyer sur les bords avec une fourchette.
Ils sont prêts à être cuit!:
Faites bouillir une casserole d'eau avec un peu de sel et d'huile d'olive.
Avec délicatesse, plongez quelques raviolis dans l'eau en ébulition. N'en mettez pas trop à la fois, ils cuisent rapidement, comptez trois minutes à partir du moment qu'ils remontent à la surface. Retirez de l'eau avec un écumoir. Cuisez ainsi tous les raviolis.
...Le jour suivant je les ai réchauffés au four avec un peu de parmesan. Personnelement je les ai préférés ainsi, un peu crouistillants!