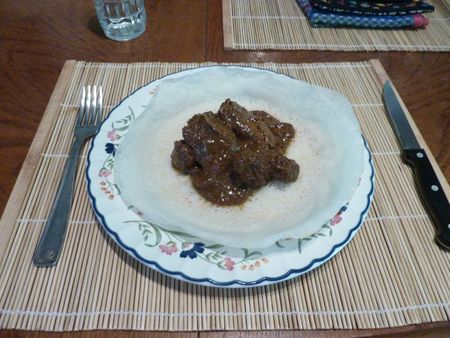 Now I really didn't think I'd like appams, I mean it's a fermented pancake!
When I was in the south of india I tasted idlis, a fermented rice and lentil cake, after that experience I avoided the fermented breads all together so I did't taste any appams while I was there.
Now I'm sorry.
When I saw that thia months daring cooks challenge was to make appams, I sighed, sceptically telling myself maybe this challenge would help me come to terms with my dislike for fermented breads.
It worked!!!
Appams, or how to like fermented rice.
Mary, from Mary Mary Culinary Mary
http://marymaryculinary.blogspot.com/
Recipe Source:
Appam: Aparna (a Daring Baker) at My Diverse Kitchen
"Ingredients:
1 ½ cups (360 ml/300 gm/10½ oz) raw rice
1 ½ teaspoons (7½ ml/5 gm) active dry yeast
2 teaspoons (10 ml/9 gm) sugar
½ cup (120 ml) of coconut water or water, room temperature
1 ½ tablespoons (22½ ml/18 gm) cooked rice
½ teaspoon (2½ ml/3 gm) salt
about ½ cup (120 ml) thick coconut milk (from the top of an unshaken can)
Directions:
1. Soak the raw rice in 4 to 5 cups of water for 3 hours. You can soak it overnight, although I did not try that.
2. Dissolve the sugar in the coconut water or plain water and add the yeast. Set aside in a warm area for 10-15 minutes, until very frothy.
3. Drain the rice and grind it in a blender with the yeast mixture to make a smooth batter. You can add a bit of extra water if needed, but I did not. Add the cooked rice, and grind/blend to combine well."
I forgot to add the cooked rice but they turn out perfectly yummy anyways...
"You can see that it is not completely smooth, but very thick—that's about right.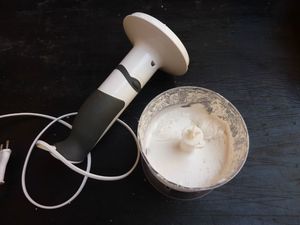 4. Pour into a large bowl, cover and leave in a warm place for 8-12 hours. You not only want the mixture to rise and collapse, but to ferment. When it is ready, it will have a slightly sour and distinctly yeasty smell. Don't worry--they are mild tasting when cooked!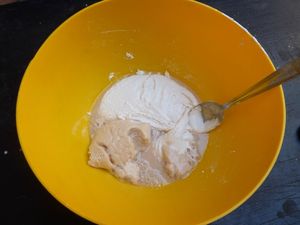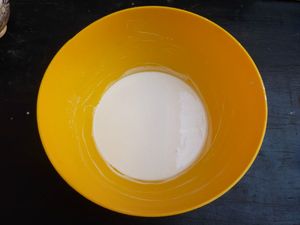 5. Add the coconut milk and salt, and a bit of water if necessary, so that you have a batter that is just a bit thicker than milk. Notice how it bubbles after you add the coconut milk. I recommend test-cooking one before thinning the batter.
6. Heat your pan over medium heat. Wipe a few drops of oil over it using a paper towel. Stir the batter and pour in 3-4 tablespoons, depending on the size of the pan. Working quickly, hold the handle(s) and give the pan a quick swirl so that the batter comes to the top edge. Swirl once only, as you want the edges to be thin and lacy.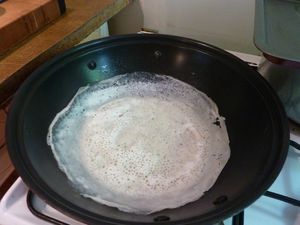 7. Cover the pan and cook for about 2 minutes." (Oups! I didn't cover the pan...) "Uncover and check. The center should have puffed up a bit, and will be shiny, but dry to the touch. When ready, loosen the edges with a small spatula and serve immediately. These need to be served hot out of the pan.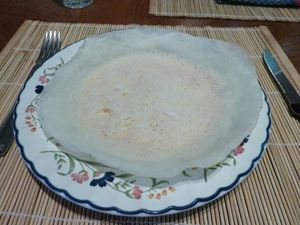 8. Make another, and another... Here you can see some that were made in regular skillets.
9. I have found that the leftover batter can be refrigerated for a day or 2."
To eat with the appams I made a sri lankan curry since I had stewing beef on my hands and there aren't very many south indian dishes with beef!!!
Mas curry
First of all I stared by roasting my spices: 1 cinnamon stick, 1 tea cumin, 1 tbs coriander, 4 cloves, 4 cardamon pods, pepper and 1 tbs basmati rice. When the rice was golden the mixture was ready to be ground.
Wash the stewing beef pieces and drain water thoroughly. Coat the beef pieces well with the spices freashly roasted and ground and some freashly grated ginger. Set aside for about 1/2 hour.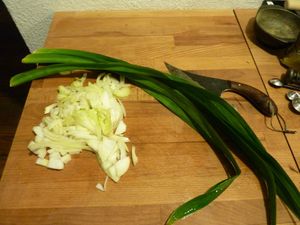 Heat the oil in a saucepan.Fry curry leaves and 4 rampe or pandan leaves (I chopped them, do not do this, as they remained tough and I had to sieve the sauce). Add 1 chopped onion, fry until soft. Add 1 cayenne chili, finely chopped and 1 teaspoon turmeric.
Time to put in the beef and stir until brown on all sides.
Stir in 2 tbs Tomato paste and 1 tablespoon tamarind concentrate
Then pour in 3-4 cups of thick Coconut milk
Taste and adjust salt.
I found the curry a bit tart so I added some jaggery.
Slow cook the beef on low heat for a couple hours.
...en Français...
Appams et un Curry de Boeuf Srilankais
Pour être honête je ne pensais pas que j'allais apprécier les appams, franchement des crèpes fermentées!!
Quand j'étais dans le sud de l'Inde j'ai eu l'opportunité de goûter des idlis, un "pain" faite de riz et de lentils fermentés, après cette expérience j'ai évité tous les autres pains fermentés qui se sont offerts à moi donc je n'ai pas goûté d'appams pendant que j'étais là-bas.
Lorsque j'ai vu que le challenge de ce mois-ci des Daring Cooks était de faire des appams, j'ai soupiré, résignée et sceptique je me suis dit que peut-être ceci allait m'aider à faire la paix avec les pains fermentés.
Ca a marché!!!
Maintenant je regrette de ne pas les avoir mangés au Kerala!
Appams, ou comment aimer du riz fermenté.
Voici la recette de Mary, de Mary Mary Culinary Mary qui s'est inspirée de Aparna de My Diverse Kitchen
"Ingrédiants:
300 g de riz cru
1 sachet de levure boulager
2 cc de sucre
120 ml de jus de coco ou de l'eau à temperature ambiante
1 ½ cs de riz cuit
½ cc de sel
environ 120 ml de lait de coco épais
Procédure:
1. Faire tremper le riz cru dans 4 à 5 tasses d'eau pendant au moins 3h (je l'ai laisser toute une nuit).
2. Dissoudre le sucre dans l'eau (ou le jus de coco) et incorporer la levure. Placez dans un endroit chaud pendant 10 à 15 min jusqu'à ce que ce soit très mousseux.
3.Egoutez le riz et le mixer avec la levure pour faire une pâte lisse. Vous pouvez ajoutez à ce stade un peu d'eau si nécessaire. Ajoutez le riz cuit et mixez également. Vous pouvez constater que ce n'est pas complètement lisse mais très épais... c'est ce que nous voulons."
Mince j'ai oublié le riz cuit et j'ai mixé le riz séparément de la levure créant une pâte similaire à du platre. C'était quand même très bon...
"4. Versez dans un grand bol et laisser dans un endroit chaud pour 8h à 12h. On ne veut pasque la pâte lève et retombe mais qu'elle fermente. Quand c'est prêt cela aura l'odeur acidulé et très reconnaisable de levain. Ne pas s'inquièter leur goût au finale est très douce!
5. Ajoutez le lait de coco, le sel et un peu d'eau si nécesaire, la pâte doit être un peu plus épais que du lait. Remarquez les bulles qui se forment après que vous ajouter le lait de coco. Je conseil faire un test avant de diluer la pâte.
6. Chauffer votre poèle sur un feu moyen. A l'aide d'un pepier essuye tout enduir d'un peu d'huile. Mélangez votre pâte et versez-y3-4 cs de pâte suivant la taille de votre poèle. Travaillez rapidement, en tenant le manche donnez un petit mouvement circulaire à votre poèleafin que la pâte remonte sur la bords. Faites ce mouvement qu'une seul fois car vous voulez que les bords soit fins et semblable à de la dentelle.
7. Couvrez la poèle et cuir pour à peu près 2min. Découvrez et vérifiez, le centre devrait avoir gonflé un peu, ce sera un peu brillant mais sec au touché. Quand prêts décrochez les bords à l'aide d'une spatule et servez immédiatement. De la poèle à l'assiette, comme des crèpes!"
Ok, là aussi j'ai fait une gaffe, j'ai oublié de les couvrir... ici parcontre je crois que cela à du modifié largement la texture. C'était très bon mais je n'ai pas suivi la recette à la perfection donc cela aurait peut-être pu être encore meilleur!!!

"8. Faire un autre et un autre...
9. J'ai constaté que la pâte peut se garder pou un jour ou deux au frigo"
Pour manger avec ces appams j'ai fait un curry srilankais car j'avais du boeuf et il n'y a pas beaucoup de plat de l'Inde du sud avec de la vache!!
Mas curry
Tout d'abord j'ai commencépar griller mes épices: 1 baton de cannelle, 1 cc de cumin, 1 cs de coriander, 4 clous de girofle, 4 graines de cardamon, 6-7 graines de poivre à queue et 1 cs de riz basmati. Quand le riz est doré le mélange est prêt à être moulu.
Bien rincer la viande, puis sécher avec du papier essuye tout. Enduire la viande des épices fraichement moulu et de gingembre râpé. Laissez mariner pour une 1/2 heure.
Chauffer l'huile dans une poèle. Faites revenir les feuilles de curry avec 4 feuilles de rampe/pandam (j'avais coupé celles-ci en petits morceaux, ne faites pas cela car elles sont restées assez dures et j'ai dû filtrer la sauce). Ajouter 1 onion émincé, faites revenir jusqu'à que il soit translucide. Ajouter maintenant un piment de cayennne finement émincé et 1cc de curcuma.
Faites brunir la beuf sur toutes les faces.
Incorporer 2cs de concentré de tomate et 1cs de concentré de tamarind.
Ensuite verser 3 à 4 tasses de lait de coco.
Gouter et rectifier le sel.
J'ai trouvé ce curry un peu acide alors j'ai ajouté un peu de jaggery (sucre non raffiné utilisé en Inde).
Faites mijoter ce curry à feu doux pendant quelques heures.