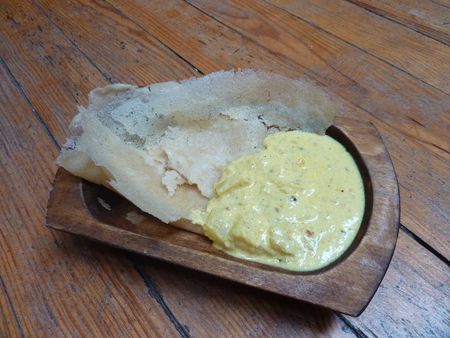 1) Prepare Coconut paste and set aside:
-1c dry shreadded coconut
-a pinch of cumin
-1 red chili
- a pinch tumeric
-1/2 water
Grind coconut, green chillies, cumin and turmeric along with 1/2 cup water to form a coarse paste and set aside.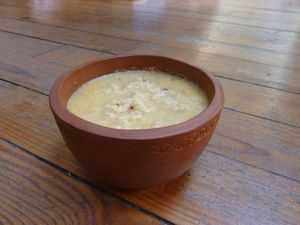 2) Prepare Yogurt mix and set aside: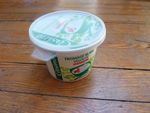 -2c well whipped fromage blanc ( Thick plain yogurt in the traditionnal recipe)
- salt to taste
- 1 tbs water
- 1 tea rice flour
Beat the yoghurt till smooth. You may add a tea of rice flour dissolved in a tablespoon of water, this can help avoid splitting of the yogurt.
3) Final spice addition and set aside: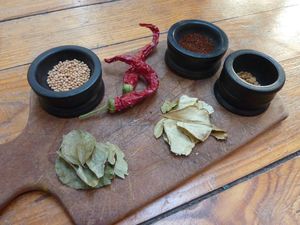 -oil (coconut if possible)
-1/2 tea mustard seeds
-curry leaves and lime leaves
-1/4 tea fenugreek
-1 red chilis (or more)
- 1/2 tea chili powder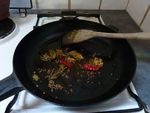 Heat oil in a pan and splutter the mustard seeds.
When they pop,add dry red chillies and curry leaves for a few minutes.
Add the chili powder and the fenugreek and saute for a minute. Set aside.
Fruit Fry:
-1 can of mangoes and 5 slices of pineapple (You can use all sorts of different fruit: plantain bananas, mangos, pineapples, zuchini squash, chayote squash, green apple, papaya...)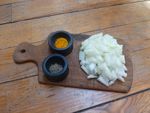 -1/2 onion or 5-6 shallots
-1/4 turmeric
-1/4 tea cumin
-optional: water, salt, 2-3 green chili, , jaggery
Heat oil, then add onion and spices.
When the onions are translucent start cooking the fruit on medium heat. Add in little water and jaggery if necessary.
It's ready when the fruit is soft, about 8-10 minutes and the liquid has reduced.
How to put it all together:
. Some roast the spices first then add the fruit then add the yogurt with the stove off
. Some cook the fruit first (mash them or not) then add the yogurt then the spices only at the end
. Some slow cook the curry even once the yogurt is added, this is hard because the yogurt can split

. The coconut is always added after cooking the fruit
Personnally I prepared the coconut, the yogurt and the spices first.
Then I cooked up the fruit, when they were done I gently added the coconut paste, allow the pulissery to cook for 2-5 minutes more.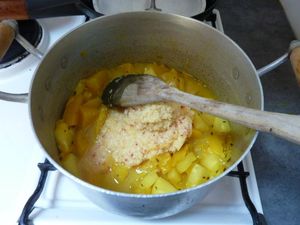 After I mixed in the spices, reduced the flame and let the flavors seep in.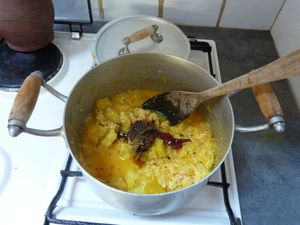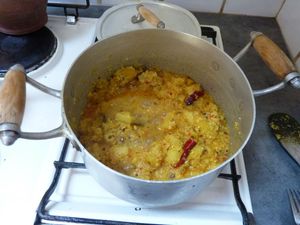 Before incorporating the beaten yogurt I took the pot off the flame. Mix well. You may add a little water if the yoghurt is too thick.
Then I cooked the dish on very low heat till the pulisseri is well heated . Do not let the pulissery boil or else the yogurt will split! Just when the gravy comes to a boil, you can turn off the heat.
The pulisseri is ready to serve and enjoy.

(you can add cilantro leaves if you like)
Recipe sources:
my kerala.com; kerala recipes, a destination for food lovers; Spider kerala; Food with a Pinch of Love
A few days latter...
So Appam batter can be frozen and defrosted:
But since it was from my second batch, it still stuck to the pan... grrrr!!!
The egg hopper I had was lovely none the less!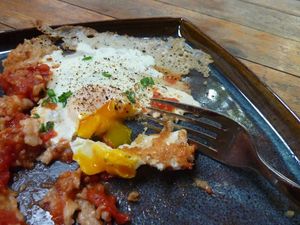 ...En Français...
Appams et Mambazha Pulisseri
1) Preparez la pâte de noix de coco et mettre de côté:
-1 tasse de noix de coco séché

-1 pincée de cumin

-1 piment rouge

- 1 pincée de curcuma
-1/2 tasse d'eau

Mixer tous les ingrédiants afin d'obtenir une pâte granuleuse, réservez.

2) Preparez la mélange à base de yaourt:
-2 tasses de fromage blanc bien battu (Utilisez du yaourt nature pour la recette traditionnelle)
- salé selon vos goûts

- 1cs d'eau

- 1 cc de farine de riz (du maïzena devrait fonctionner aussi)

Battre le frmage blanc pour obtenir une consistance parfaitement lisse. Vous pouvez incorporer un peu de fairne de riz dissolue dans de l'eau, ceci évitera que le yaourt ne se caille.
3) La touche épicé:
-huile (noix de coco si possible)
-1/2 cc graines de moutarde

-quelques feuilles de curry et quelques feuilles de citron vert

-1/4 cc de fenugreek
-1 (ou plus) piment rouge

- 1/2cc de poudre de chili

Chauffez l'huile dans une poèle, faites-y pétiller les graines de moutarde.
Ajoutez ensuite le piment et les feuilles. Après une minute ou deux ajoutez las autres épices.

Faites revenir ainsi encore quelques minutes puis réservez.
Sauté de Fruits:
-1 boite de mangues en conserve et 5 tranches d'ananas (Vous pouvez utiliser tout un tas de fruits différents: bananes, mangues, ananas, courgette, courge, pommes vertes, papaye,...)
-1/2 oignion ou 5-6 échallotes
-1/4 cc de curcuma
-1/4 cc cumin
- optionnel: eau, sel, piments verts, jaggery (sucre non raffiné)
Chauffez l'huile et ajoutez l'oignion et les épices.

Quand les oignions sont translucides commencez à cuire les fruits sur un feu moyen. Ajoutez un peu d'eau et du jaggery (sucre non raffiné) si nécessaire.
C'est prêt quand les fruits sont tendres, entre 8 et 10min et que le liquide s'est réduit.
Comment assembler le tout:
. Certains font rôtir les épices, puis ajoutent les fruits et seulement le yaourt quand le feu est éteint.
. Certains cuisent les fruits d'abord, en les écrasant ou pas, puis le yaourt et les épices seulement à la fin.
. Certains cuisent le curry à feu très doux même après l'ajout du yaourt. C'est délicat carle yaourt peu cailler!!

. Le noix de coco est toujours ajouté après la cuison des fruits.
Personnellement j'ai préparé en avance et séparament le noix de coco, le yaourt et les épices.
Puis j'ai cuisiné les fruits, quand ils étaient prêts j'ai délicatement incorporé la pâte de noix de coco. J'ai ensuite laissé le pulissery cuire 2-5min supplémentaire.
Les épices ajoutés, j'ai réduit le feu afin de laisser les parfums se diffuser en douceur.
Avant incorporer le yaourt j'ai retirer la casserole du feu. IL faut bien mélanger, si le yaourt est trop épais c'est possible d'ajouter un peu d'eau.
Puis j'ai remis le tout sur le feu à feu très très doux jusqu'à ce que le pulissery soit bien chaud. NE LAISSEZ PAS BOULLIR le pulissery sinon le yaourt se caillera, se sera toujours bon mais de texture et d'aspect repoussant. Dés que la sauce commence à faire des bulles éteigner le feu.
Le pulissery est prêt!! Bon appetit!

PS: Vous pouvez ajouter de la coriandre faiche si vous le souhaitez
Sources:
my kerala.com; kerala recipes, a destination for food lovers; Spider kerala; Food with a Pinch of Love
Quelques jours plus tard...
La pâte à appam peut être congelé. Faites un egg hopper en casant un oeuf dessus!