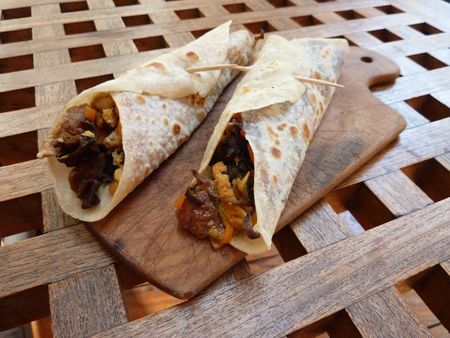 Shelly from C Mom Cook has dared us to make Moo Shu Pork for this month's edition of Daring cooks.
Well here comes my version of Moo Shu for You!
Tonight I'm alone, getting over the flu, not really hungry but knowing that tomarrow is my deadline I've pulled up my sleaves and gotten to work.
Plum sauce: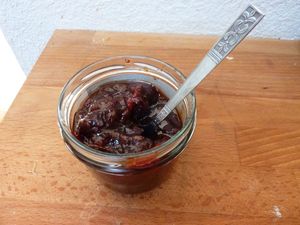 Pit some plums.
Cook them down with some water, sugar, ginger, chili and anise star.
When tha flavors have nicely come together and the consitancy is jam like it's ready!
Let it cool down before serving.
Moo Shu Pancakes:
Pour 1 cup of boiling water into 2 cups of flour with a tiny bit of oil.
Stir with chop sticks. Knead quickly to bring the dough together. Now let the dough rest for 30min. The boiling water is important to break down the gluten.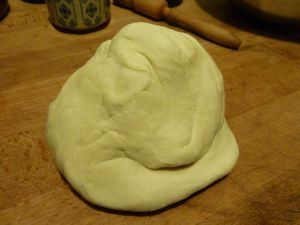 Once rested you'll find that the dough is incredibley smooth!
"Lightly dust the surface of a worktop with dry flour. Knead the dough for 6-8 minutes or until smooth, then divide into 3 equal portions. Roll out each portion into a long sausage and cut each sausage into 8-10 pieces. Keep the dough that you are not actively working with covered with a lightly damp dish cloth to keep it from drying out..."
Each ball should be about the size of a walnut: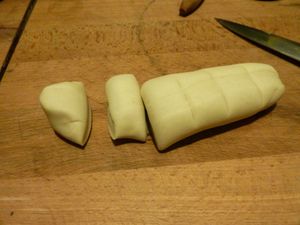 Roll each piece into a ball, then, using the palm of your hand, press each piece into a flat pancake. Dust the worktop with more dry flour...
Working with two balls of dough at a time, roll each piece into a three inch pancake. Using a pastry brush, brush sesame oil onto the top of one of the pancakes, and top it with the other pancake. Further roll the doubled pancake into a 6 to 8 inch circle...
Place an un-greased frying pan over high heat. Once the pan is hot, lower the heat to low and place the pancakes in the pan. Remove when little light-brown spots appear on the underside...
Separate pancakes after cooking.
Cover with a damp cloth until ready to serve."
For the Stir Fry: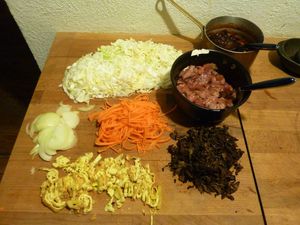 Slice up some pork, lets say a handfull. Place in a bowl. Sprinkle with some sechwan pepper, soy sauce and red wine. Mix well then add a bit of potato flour. Set aside.
Slice out a wedge of the nappa cabbage, I only used about 1/4. Once they are chopped up they yield quite alot! Finely chop it up and set aside.
Slice 1 onion and set aside.
Pour some boiling water on 5-7 black mushrooms. Let them soak for about 10min, rince and drain. Slice them up as well and set aside as well.
Beat 2 eggs. Pour into a hot fring pan, spread thinly. As the omlette cooks roll it up. Once done slice up the rolled omlette. Set aside as the rest of the ingrediants.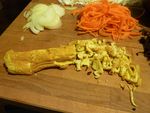 With a pealer, peal a carrot into thin coils. Add them to the other vegtables.
In a wok, heat up some oil, I used a mix of sunflower and sesame. I stared by fring the onion. When it was translucent I added the cabbage, cooked it down by setting a lid on the wok. Once the cabbage had well reduced the mushrooms got tosed in. I cooked them for a couple minutes then I too the pan off the burner while I cooked the meat.
Either transfer the veggies to a bowl or use another pan to fry the meat. Cook until slightly browned.
Now mix everything together, the meat, the cooked veggies and the carrot and omelette.
Sautay for a few minutes then it's time to serve!
Place a couple spoonfulls of stir fry in a pancake, roll up dip in the plum sauce and bite in! ;p