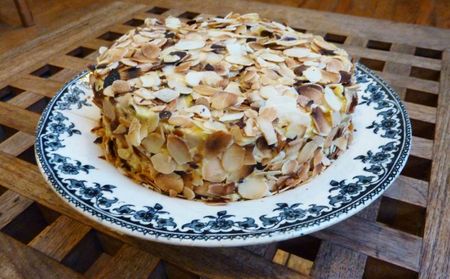 November's Daring Baker's challenge has brought me to the other side of the world and back again!
Indeed, we were dared by Catherine from Munchie Musings to make filipino desserts, namely a Sans Rival.
Well for something as exotic sounding as a filipino dessert I was somewhat surprised to find the challenge not only having a french name but also having some very french charistics, so living in France I was not nearly as "dépaisée" as I thought I'd be to begin with.
BUT this cake is pretty cool and definetly challenging!
Since this recipe seemed extremly rich and sweet I decided to half the recipe we were given.
After all ther's only two of us and a 12 portion buttercream and meringue layered cake did sound a bit like over doing it!!!
So here's how to make my version of a Sans Rival:
The Dacquoise:
5 egg whites
1/2 cup (112 g) white sugar
1/2 tea (1,5g) cream of tartar
1 cup (120g) toasted nuts (I used hazelnuts)
"1. Preheat oven to moderate 325°F/160°C/gas mark 3.

2. Line cake pan bottoms with parchment paper and butter and flour the sides really well."
Now I just dren thew circles on parchment paper and then put it on cookie sheets, no butter nor flour for me...
3. In a large clean, dry glass or metal mixing bowl, beat egg whites on medium until foamy (2 mins.). Sprinkle with cream of tartar. Gradually add sugar, a couple of tablespoons at a time, continuing to beat now at high speed until stiff shiny peaks form. (about 7-10 mins.)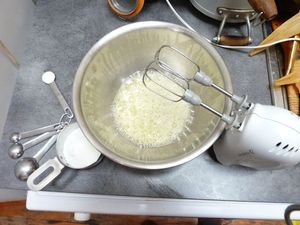 4. Fold in nuts, reserving enough to use for decoration.
(Note the more finely ground for folding into meringue. The coarsely ground for is decoration of finished cake.)
Since I used slivered almonds for the decoration I did not pay attention to this...
5. Divide meringue into four equal parts. Spread in pans, evenly to edges. If doing batches, use fresh parchment paper and cooled pans for each batch
6. Bake in preheated oven for 30 minutes, or until golden brown. Remove the meringue from the baking pans while still hot; allow to cool slightly. Peel off the parchment paper while it is still warm, it is difficult to remove sometimes when they have completely cooled.
7. When cool, trim edges so that all 4 meringue layers are uniformly shaped. Set aside."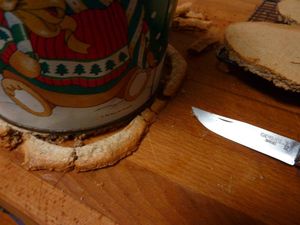 The Buttercream:
2,5 egg yolks
1/2 cup (112 g) white sugar
1/8 cup (30ml) water
5/8 cup (142g) unsalted butter
Flavoring: vanilla, almond extract, cocoa...(I used hazelnut syrup)
"1. Put the egg yolks in a mixing bowl. Beat at high speed until the yolks have doubled in volume and are a lemon yellow.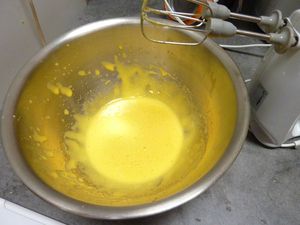 2. Put the sugar and water in a heavy pan and cook over medium heat, stirring the sides down only until all the sugar is dissolved and the syrup reaches 235°F/112°C (or thread stage)."
OK, so my syrup was more of a carmel of sorts but it still turned out good once I fished out the hard lumps of rock candy that formed when I poured the carmel syrup into the butter mixture...

"3. With the mixer on high, very slowly pour the syrup down the sides of the bowl, until all has been added. Be careful as the very hot syrup could burn you if it splashes from the beaters. Continue beating on high until the mixture is ROOM TEMPERATURE (about 15 mins).
Still on high, beat in the soft, room temperature butter a tablespoon at a time. Add flavoring after you beat in the butter. Refrigerate the buttercream for at least an hour, and whip it smooth just before you use it"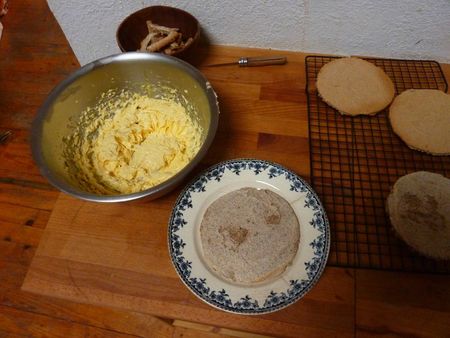 The Stacking :
I didn't think there would be enough cream but there was so don't worry.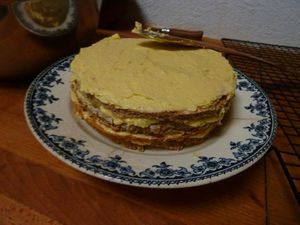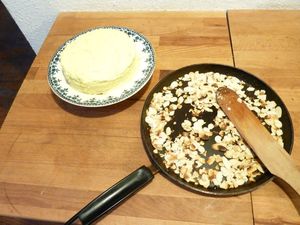 I toasted some slivered almonds...yummy!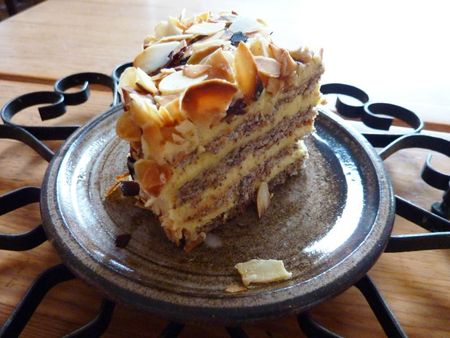 En Français...
Le Sans Rival et Autres Desserts Philipins
Pour quelque chose qui sonne aussi exotique qu'un dessert philipin, le sans rival est un dessert vraiment très français! Couche sur couche de dacquoise intercallées de crème au beurre.
Ceci dit c'est très bon et...très riche, du coup j'ai fait une demi recette et cela a bien fonctionné.
On commence par la Dacquoise:
5 blancs d'oeufs
1/2 tasse (112 g) de sucre blanc
1/2 cc (1,5g) de poudre de tartar
1 tasse (120g) de poudre d'arachides grillés (J'ai opté pour de la noisette)
1. Préchauffez le four à 160°C
2. Dessinez quatres cercles d'une vingtaines de centimètres de diamètre sur du papier cuisson. Placer ces feuilles sur des plaques du four.
3. Dans un grand bol bien propre, battre doucement les blancs d'oeufs jusqu'à ce qu'ils soient mousseux (environ 2 min). Saupoudrez de crème de tartar. Progressivement incorporez le sucre quelques CS à la fois. Continuez à battre, maintenant à grande vitesse jusqu'à obtenir des piques bien fermes et luisantes (environ 7-10 min).
4. Incorporer la poudre d'arachide avec de délicats mouvement circulaire avec une spatule.
5. Diviser la meringue en quatre. Etalez sur les disques tracés sur le papier cuisson. Si jamais vous le cuisez en plusieurs fournées pensez à l'aissez votre plaque refroidir entre chaque fournée.
6. Cuisez dans le four préchauffé pendant 30 min ou jusqu'elles soient dorées. Enlèvez les dacquoise des plaques pendants qu'elles sont encore chaudes, laissez tièdir et retirez le papier cuisson. Si vous le laissez dessus ce sera encore plus pénible à retirer quand cela sera tout à fait froid.
7. Une fois refroidies, taillez toutes les meringues pour qu'elles soient exactement de la même taille. Réservez.
Puis on prépare la Crème au Beurre:
2,5 jaunes d'oeufs
1/2 tasse (112 g) de sucre blanc
1/8 tasse (30ml) d'eau
5/8 tasse (142g) de beurre doux
Arômes: vanille, extrait d'amande, cacao...(J'ai utilisé du sirop de noisette)
1. Battre les jaunes d'oeufs à grande vitesse jusqu'àce qu'ils aient doublés en volume et soient un jaune citron.
2. Mettre le sucre et l'eau dans une casserole et chauffez sur un feu moyen. Mélangez bien jusqu'à le sucre soit dissout. Il faut que le sirop atteigne 112°C ou l'état filandreux.
3. Avec des batteurs à pleine vitesse, très lentement et très précosieusement versez le sirop contre le parois du bol dans lequel se trouve les jaunes.
Bon d'accord mon sirop ressemblait plus à du caramel, c'était quant même bon une fois que j'avais repêché les gros bouts de caramel dur qui se sont formés quand j'ai tenté d'incorporer mon "sirop" à mes jaunes...
Battez jusqu'à ce que le mélange soit à température ambiante, prés de 15 minutes!!B
4.Encore à pleine régime, incorporez maintenant le beurre une CS à la fois. Ajoutez votre parfum après le beurre. Réfrigérez la crème au beurre au moins une heure et battez de nouveau pour l'assouplir avant d'assembler le gâteau.

L'Assemblage:
Mettez une petite touche de crème dur votre assiette pour "coller" le gâteau en place.
Placez une disque de dacquoise au centre et tartinez la de crème.
Pardessus mettez une autre disque et proceder de même pour toutes les couches.
Je pensais qu'il n'y aurait pas assez de crème mais il y avait juste ce qu'il fallait.
J'ai fait griller des amandes éffilées et j'en ai parsemé tout le gâteau pour le décorer mais faites ce qui vous inspire.
Miam!
Conservez le gâteau au frais mais sortez le au moins une demi heure avant de le manger.