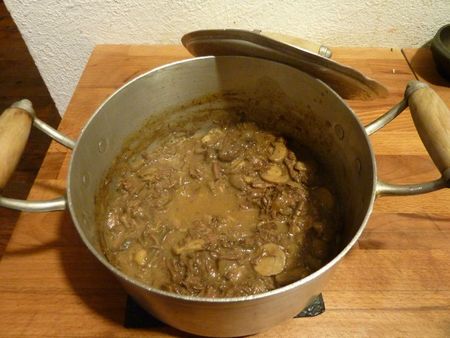 Beef Blanquette :
Place the following ingrediants in a slow cooker :
-hunks of stewing beef
-1 chopped onion
-1/2 cup of muscat sec (white wine)
-1/2 cup of vegtable broth
-salt, pepper and 4 cloves
Cook on high for 8h.
Make a roux:
-20g of butter
-1 tbs of potato starch
Add the broth from the stew plus 1/2 cup of vegtable broth.
Now add 2 tbs of powdered milk and a big handfull of frozen mushrooms. (I only used powdered milk because I did not have any more normal milk)
Put the meat in and let the sauce cook down and thicken up a bit.
Enjoy with some scones freashly popped out of the oven!!
This is the recipe given to us by Autifax for the january Daring Bakers challenge of making scones:
Ingredients:
1 cup (140 g) plain (all-purpose) flour
2 teaspoons (10 g) fresh baking powder
¼ teaspoon (1½ g) salt
2 tablespoons (30 g) frozen grated butter (or a combination of lard and butter)
approximately ½ cup (120 ml) cold milk
optional 1 tablespoon milk, for glazing the tops of the scones
Directions:
1. Preheat oven to very hot 475°F/240°C/gas mark 9.
2. Triple sift the dry ingredients into a large bowl. (If your room temperature is very hot refrigerate the sifted ingredients until cold.)
3. Rub the frozen grated butter (or combination of fats) into the dry ingredients until it resembles very coarse bread crumbs with some pea-sized pieces if you want flaky scones or until it resembles coarse beach sand if you want tender scones.
4. Add nearly all of the liquid at once into the rubbed-in flour/fat mixture and mix until it just forms a sticky dough (add the remaining liquid if needed). The wetter the dough the lighter the scones (biscuits) will be!
5. Turn the dough out onto a lightly floured board, lightly flour the top of the dough. To achieve an even homogeneous crumb to your scones knead very gently about 4 or 5 times (do not press too firmly) the dough until it is smooth. To achieve a layered effect in your scones knead very gently once (do not press too firmly) then fold and turn the kneaded dough about 3 or 4 times until the dough has formed a smooth texture. (Use a floured plastic scraper to help you knead and/or fold and turn the dough if you wish.)
6. Pat or roll out the dough into a 6 inch by 4 inch rectangle by about ¾ inch thick (15¼ cm by 10 cm by 2 cm thick). Using a well-floured 2-inch (5 cm) scone cutter (biscuit cutter), stamp out without twisting six 2-inch (5 cm) rounds, gently reform the scraps into another ¾ inch (2 cm) layer and cut two more scones (these two scones will not raise as well as the others since the extra handling will slightly toughen the dough). Or use a well-floured sharp knife to form squares or wedges as you desire.
7. Place the rounds just touching on a baking dish if you wish to have soft-sided scones or place the rounds spaced widely apart on the baking dish if you wish to have crisp-sided scones. Glaze the tops with milk if you want a golden colour on your scones or lightly flour if you want a more traditional look to your scones.
8. Bake in the preheated very hot oven for about 10 minutes (check at 8 minutes since home ovens at these high temperatures are very unreliable) until the scones are well risen and are lightly coloured on the tops. The scones are ready when the sides are set.
9. Immediately place onto cooling rack to stop the cooking process, serve while still warm.
En Français...
Blanquette de Boeuf:
Placez les ingrédiants suivant dans une mijoteuse:
-boeuf à daube
-1 onignon émincé
-1/2 cup de muscat sec
-1/2 cup de bouillon de légumes
-sel, poivre et 4 clous de girofles
Mijotez pendant 8h.
Faîtes un roux:
-20g de beurre
-1 CS de fécule de pomme de terre
Incorporez le jus de cuison et 1/2 tasse de bouillon de légumes.
Ajoutez 2 CS de lait en poudre et une grosse poignet de champignons émincés surgelés
Remettre la viande et reduire la sauce
Dégustez acompagné de scones fraichement sortis du four!!
Scones:
140g de farine
10g de levure chimique
1,5g de sel
30g de beurre congelé rapé
120ml de lait froid+ un peu pour la dorure
Préchauffer le four à 240°C.
Tamisez trois fois les ingrédiants secs.
Sablez du bout des doigts le beurre et la farine. Si vous souhaitez des scones qui s'éffritent laissez des morceaux de beurre de la taille d'un petit pois sinon pour un scone plus tendre sablez jusqu'à obtention d'une consistance sableuse!
Ajoutez tout le liquide d'un coup, la pâte sera collante mais plus elle est humide plus les scones seront légères!
Déposez la pâte sur une surface farinée, parsemez un peu de farine dessus et pétrissez très délicatement 4-5 fois. Aplatissez la pâte à la main pour obtenir une couche de 2cm d'épaisseur.
Découpez les scones en prenant garde de ne pas poivoter la main sinon les scones ne se léveront pas bien. Que des mouvement verticaux!
Placez les dans une plat beurré très près les uns des autres. Dorez avec un peu de lait et enfournez pour 8 à10 min.
Servez encore chauds!