This month I made Challah breads for the may edition of the Daring Bakers Challenge. They were definetly yummy but the recipe yeilded way to much for just the two of us, I would suggest that you cut the portions in half since this recipe made 3 loafs!!
Ingredients:
31g fresh yeast
1 cup of warm water
1/2 cup of brown sugar
1/2 cup of butter
2 tea of salt
4 cups of white flour
2 cups of whole wheat flour
1/2 cup of rolled oats
1/2 cup of honey, my little personnal touch
3 eggs
Additional flour for kneading and 1 egg beaten with 1 tsp. water for glaze
Here are the directions given to us by Ruth from Crafts of Mommyhood, I followed them exactly.
Directions:
1. In the bowl of your stand mixer, dissolve yeast in warm water. Allow to stand about 5 minutes until creamy/foamy.
2. With paddle attachment beat 3 eggs, sugar, margarine (or butter), whole wheat flour, all purpose flour and oats into the yeast mixture. Or, if mixing by hand (ok, spoon), combine eggs and margarine/butter with yeast mixture until well mixed. Add flours and oats and mix until it becomes difficult to mix.
3. Once combined, switch to the dough hook and knead for 5 to 10 minutes until smooth and elastic, adding flour as/if needed. If kneading by hand, this should take about 10-12 minutes.
4. Form dough into a round, compact ball. Turn in oiled bowl, cover with a kitchen/tea towel. Let rise in warm area (I put it in the oven with the light on) until doubled, approx. 2 hours.
5. Once dough has doubled, punch down. Recover with towel, allow to rise again for an hour, but even 30 minutes will be fine if you're in a hurry.
6. Punch the dough down again, divide in two.(I divided the dough into three)
7. Shape each half as desired (3, 4 or 6 strand braid, rolls, etc.). Place shaped loaves onto parchment covered baking trays. Cover with the towel and allow to rise another hour.
8. Preheat oven to 350 degrees.
9. Brush loaves with egg wash.
10. Sprinkle with topping here if desired, vanilla sugar/sesame seeds/poppy seeds/other, I made one plain one, one with a spiced sugar topping and one with poppy seeds
11. Bake 30 to 40 min. until the loaf sounds hollow when tapped on the bottom.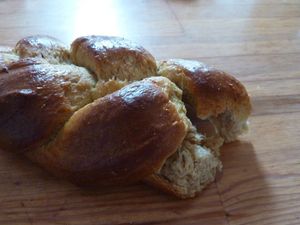 En Français...
Du Pain Challah
Ce mois-ci j'ai fait du Challah pour l'édition de mai de Daring Bakers Challenge. C'était très bon mais la recette donne une trop grosse quantité pour nous deux! Je vous suggère de divisez la recette en deux car celle-ci m'a donné 3 pains.
Ingredients
2 packets (15 gm) de levure boulangère
240 ml d'eau tiède (38°C)
100 gm sucre brun
115 gm beurre doux, température ambiante
15 gm sel
3 gros oeufs
280 gm farine de blé complet
280 gm farine de blé normale
50 gm de flocons d'avoine
3 CS de miel, ma petite touche perso...
Un peu de farine supplémentaire pour le pétrissage et 1 oeufs avec 1cc d'eau pour dorer
Voici les instructions que nous a donné Ruth de Crafts of Mommyhood, je les ai suivis précisément.
Procédure:
1. Dans un bol disoudre la levure dans de l'eau tiède. Attendre que le mélange soit mousseux
2. Ajoutez le beurre et les oeufs, mélangez bien. Puis incorporez la farine et l'avoine.
3. Pétrissez à la main entre 10-12min, jusqu'à ce que la pâte soit souple et élastique.
4. Formez une boule etfaites tournez dans un bol huilé. Couvrez d'un torchon propre et laissez la pâte lever dans un endroit chaud jusqu'à ce que cela double de volume, environ 2 heures.
5. Une fois levée donnez la un petit coup de poing. Recouvrez et laissez lever de nouveau pendant environ 1 heure, au moins une 1/2 heure.
6. Donnez une autre coup de poing et divisez la pâte en deux (personnellement je l'ai divisée ene trois)
7. Façonnez maintenant à votre guise les différents pains, tressez les avec 3, 4 ou6 brins. Posez les sur du papier cuisson sur les plaques, couvrez et laissez lever encore une heure.
8. Préchauffer le four à175°C
9. Dorez les pains avec le mélange oeuf+eau.
10. Parsemez maintenant dessusre vanillé, graines de sésame, graines de pavot,... J'en ai fait un nature, un au garins de pavots et un avec du sucre aux épices.
11.Cuire 30-40min, jusqu'à ce que le pain résonne sourd quand on toc sur le dessous.