4 1/2 cups of flour
2 Tbs sugar
2 tea salt
1 package of instant yeast
1 cup of milk
1/2 cup of water
4 Tbs of butter
1 egg
1 yolk
1 white for glaze
Poppy seeds, sesame seeds, fried onions...
Combine the first 4 ingrediants, the dry ones in a big bowl, mix well.
Melt the butter ina a pan then add the milk and water to heat up to a vary warm temperature, not too hot to stick your finger in but definetly not room temperature.
Make a well in the dry mix and slowly add the liquids. Using a spoon expand the well in a circular motion incorporating wet to dry.
Add the egg and yolk.
Dump on to a floured surface and start kneading.
Knead until smooth and elastic, about 10min.
Wash out your bowl and pour a couple Tbs of oil into it. Form your dough into a ball and plop it down into the bowl, while using it to swish around the oil onto the sides cover the ball with oil.
Cover with a warm damp teatowel and leave to rise someplace warm for at least 1 hour or until it's doubled in bulk.
Shaping:
Transfer onto a floured surface. Briefly knead together, divide the dough in quarters. then each quarter into four as well. 16 pieces in all.
Roll out to form a rectangle, about 15cm long and 8 cm wide.
Fold over about 1/4 of the width, seal down. Procede again. As if you were rolling the dough up but sealing it every time around. Pinch the sides and fold in a bit.
Place on your pre-greased or lined baking sheet, sealed part down.
Line the buns up fairly close, about 1 finger apart, like many baked goods these guys are going to lean on each other to rise higher.
Cover lightly with a warm damp teatowel and leave in a warm place to rise a second time, no more then an hour.
Preheat your oven to 180°C.
Whisk up your egg white with a Tbs of water. Gently glaise the buns taking care not drip down to the sides.
Sprinkle whatever topping to prefer on top.
Bake for 15min until golden brown.
You should be able to pull the buns apart giving them the distintive lighter coloring on the sides.
Cool before cutting.
Enjoy!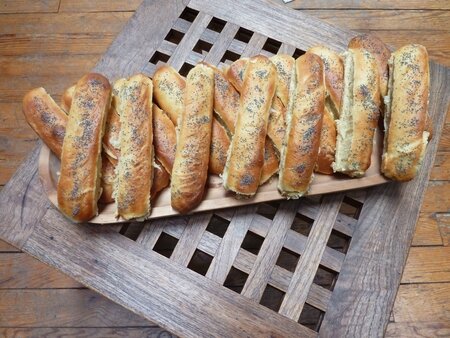 En Français...
16 Delicieux Pains à Hot Dog
612g de farine
30g de sucre
10g de sel
1 packet de levure boulangère
236ml de lait
118ml d'eau
60g de beurre
1 oeuf
1 jaune d'oeuf
1 blanc d'oeuf pour la dorure
Graines de pavot, gaines de sesame, onions grillés...
Mélangez les premiers 4 ingrédiants, les secs, dans une grand bol.
Faites fondre le beurre dans une casserole avec le lait et l'eau. Chauffez jusqu'à ce que le mélange soit très chaud pas trop chaud pour mettre le doigt mais vraiment plus que température ambiante.
Creuser un puit au centre du mélange sec puis tout doucement versez les liquides. Utilisez une cuillère en bois pour tout doucement agrandir le puit tout en incorporant les liquides dans le mélange sec.
Ajoutez l'oeuf et le jaune.
Transférez l'appareil sur une surface farinée et commencez à pétrir.
Pétrissez jusqu'à ce que la pâte soit lisse et élastique, environ 10 minutes.
Lavez le bol et mettez-y quelques CS d'huile. Formez une boule de pâte et placez-le au centre du bol, faites le tournez dans le bol pour couvrir le bol et et la boule d'huile.
Couvrir d'un torchon chaud et humide et placez le bol quelque part chaud pour laissez la pâte pousser pendant au moins 1 heure jusqu'à ce la pâte double de volume.
Façonner:
Transferez la pâte levé sur la surface farinée. Pétrissez brievement et diviser la pâte en quatre puis en quatre de nouveau, 16 morceaux en tout.
Abaissez la pâte en un rectangle de 15cm de long par 8 cm de large.
Pliez la pâte à 1/4 de la largeur, soudez le pan. Répétez le mouvement, c'est comme si on roulait la pâte et on le soudait à chaque tour. Pincez les bords et pliez les bouts vers le dessous.
Placez le boudin sur une plaque graissée ou recouvert de papier sulfurisé la partie soudée vers le bas.
Alignez les pains assez proche les uns des autres, à environ un doigt d'écart. Comme bien des patisseries, ces pains vont se reposer les uns contre les autres pour mieux lever.
Couvrir d'un torchon chaud et humide et placez quelque part chaud pour laissez la pâte pousser une seconde fois pas plus d'une heure.
Prechaufer le four à 180°C.
Battez le blanc d'oeuf avec 1 CS d'eau. Dorez délicatement prenant garde de ne pas laisser la dorure couler sur la plaque.
Parsemez un peu le dessus avec la garniture choisit.
Cuissez 15min jusqu'à ce qu'ils soient dorés.
Laissez refroidir avant de séparer.
Vous allez pouvoir les séparez à la main et voir la coloration très distinctif en dégradé sur les côtés.
Profitez bien de votre barbecue!