I love crackers.
Among store bought crackers my favorits are beyond any doubt : Cheeze its. I mean I have my dad send them all the way to France and then I hord them as a very special treat. Now anyone that knows me and my "all homemade food with no wierd ingrediants" obsession will find this to be a bit of a contradiction. And it is. Nobody's perfect certainly not me.
BUT when Dana McFarlane challenged us to make crackers for this month's edition of Daring Bakers I decided it was about time I rolled up my sleaves and tried to find a healthier, if not tastier (is that possible?), subsitute.
First attempt.
Ingrediants:
1cup flour
6Og of butter
1/2 tea of corse salt
1/4 tea of chili powder
1/4 tea of paperika
1 to 2 tbs of very cold milk
1,5 cups of shreaded cheese (Cheadar being unavailable or totally unaffordable here I used a mix of aged gouda and mimolette)
Method:
I) Put all the ingrediants in a food processor and blend until they come together.
Scoop up the dough and knead briefly (no need to flour the surface because the dough is oily it doesn't stick).
Wrap it up in some plastic wrap and leave to chill in the frigde...I left it overnight but I suppose a couple hours would be plenty.
II) Cut the dough into quarters.
Leave 3/4 in the fridge, take 1/4 over to your workboard.
With a rolling pin slightly flaten out the piece.
Now pass this piece of dough thru the biggest width of your pasta machine.
At first it will come out pretty crumbly, don't worry, fold it in half and repeat the process. As you repeat the dough will come together and smooth out. You can now start working your way down until you've obtain the desired thickness, for me that was about 2mm.
III) Once you've got a strip that's smooth and as a thick as you want, trim the edges and cut up into cheeze it size squares, hum...1,5cmx 1,5cm. Place on a cookie sheet that you've covered with wax paper. You can line these guys up closely as that will not rise only slightly puff up. With a toothpick make a little hole in the center of each cracker.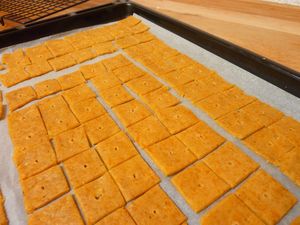 IV) Bake for about 10min at 180°C or until golden brown. DO NOT OVER BAKE THEY WILL NOT BE GOOD.
They come out looking like they've got...cellulite!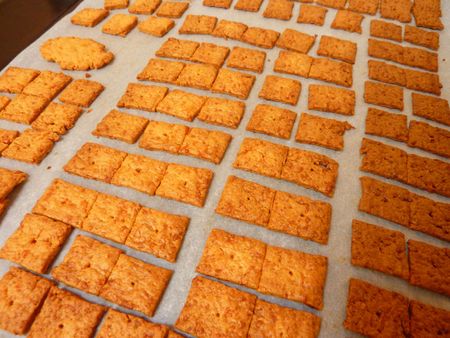 Verdict: Very tasty but not Cheeze Its... not yet anyhow. The spices were lovely but a cheeze it isn't spicy and though they deffinetly tasted like cheese, it wasn't the right one... Will I break down and buy some very expensive cheadar for this project?
Maybe, someday, until then..."Daddy send me some crackers pleeeese!"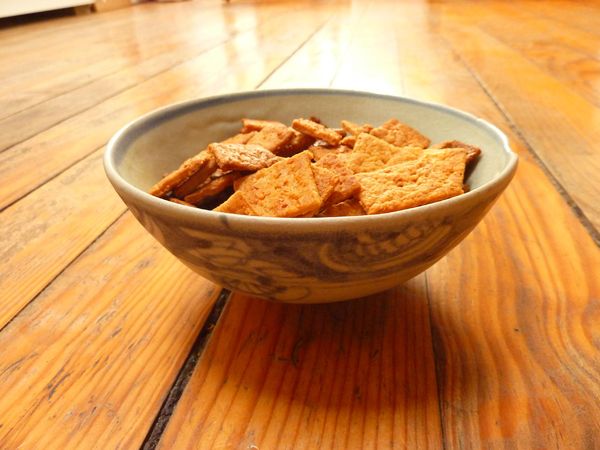 En Français...
Crackers! Des "Cheeze Its" fait maison
J'adore les crackers.
Parmis les crackers vendus en magasin mes préférés, sans aucun doute sont des "Cheeze Its". A un tel point que je demande à mon père de m'en envoyer régulièrement ici en France! Puis je les rationne, les mangeant juste de temps en temps comme un mets délicat. Maintenant n'importe qui qui me connait un temps soit peu et mon obsession de "nouriture fait maison sans ingrédiants bizares" pourrait trouver cela un peu étrange, voir contradictoire. Certes. Personne n'est parfait, surtout pas moi.
MAIS quand Dana McFarlane nous a défié de faire des crackers pour l'edition de juillet de Daring Bakers j'ai décidé que l'heure était venue de retrousser mes manches et essayer de créer une version plus saine, voir meilleur (serait-ce possible?!) de mes crackers préférés.
Première tentative.
Ingrédients:
1cup farine
6Og de beurre
1/2 cc de sel gris
1/4cc de poudre de chili
1/4 cc de paperika
1 to 2 cs de lait très froid
1,5 cups fromage rapé (Le vrai Cheadar étant introuvable ou vraiment trop cher ici, j'ai utilisé un mélange de gouda vieux, pour le goût, et de mimolette, pour la couleur.)
Méthode:
I) Mettez tous les ingrédients dans un robot mixeur et mélanger jusqu'à ce que la pâte s'aglutine.
Transférer la pâte sur une surface non fariné et pétrir brievement.
Enveloppez de papier cellophane et placez au frigo ...je l'ai laissé toute une nuit mais quelques heures devrait suffire.
II) Coupez la pâte en quartiers.
Laissez 3/4 dans le frigo, prenez 1/4 vers le plan de travail.
Avec un rouleau patissier étaler sommairement le morceau.
Maintenant passez le à travers le plus grandécrat de votre machine à pates.
Au début cela va s'émieter pas mal, ne vous en soucillez pas, plier le en deux et répettez le processus. Au fur et à mesure la pâte va devenir plus lisse et avoir plus de tenu. Vous pouvez maintenant réduire l'écart jusqu'à ce que vous obtenez l'épaisseur désiré, pour moi c'était environ 2mm.
III) Une fois que vous avez une bande lisse de l'épaisseur souhaité, tailler les bords et découpez la bande en carrés de 1,5cm x 1,5cm.
Disposer les sur une plaque recouverte de papier cuison. Inutile de les écarter ils ne gonfle pas. Piquer les au centre à l'aide d'un curedent.
IV) Cuire au four environ 10min à 180°C, jusqu'àce qu'ils soient dorés. ATTENTION DE NE PAS TROP CUIRE ILS SERONT MAUVAIS.
Sortie du four on dirait qu'ils on de la cellulite!
Verdict: Délicieux mais pas des Cheeze Its... pas encore du moins. Les épices ont bien contribués au goût mais il n'y en a pas dans un cheeze it, et bien qu'ils avaient indéniablement le goût de fromage ce n'était pas le bon...Est-ce que je vais craquer et acheter du cheadar super cher juste pour cette recette??
Peut-être un jour mais jusqu'à là..."Papa! S'il te plaiiit envoye-moi des crackers!"