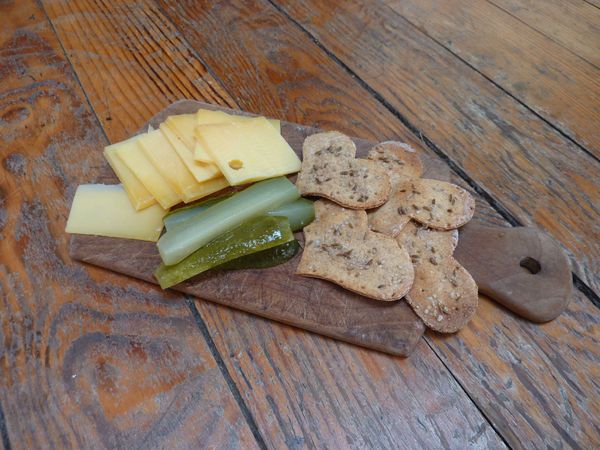 Second cracker attempt made for the Daring Bakers july challenge
Ingrediants:
1 pkg (5,5g) instant dry yeast
corse salt
2 cups rye flour
1 cup T65 wheat flour
2 Tbs honey
1 cup milk
spices (cumin, caraway, fennel, coriander,...)
Method:
I) Disolve the yeast in the milk. Set aside to proof itself.
II) After 5min when the yeast has foamed up, add the honey.
III) Stir in the flours and salt, 1 cup at a time.
IV) Dump onto your workboard and knead together.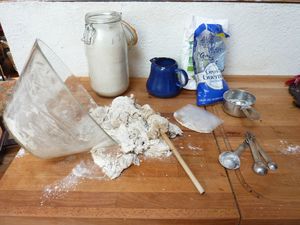 V) Make a ball and place in a bowl and cover with a damp cloth. Leave in a warm place for...a while between 1/2h and 2h
VI) Heat the oven to 180°C
V) Roll out until it's pretty thin, 3-4mm, on a generously floured surface. Prick the dough with a fork or a special rolling pin called "Kruskavel".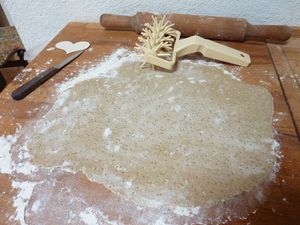 VI) Now cut out your desired shape:
-the traditional wheel with a hole in the middle, meant to allow the crackers to be hung up in the kitcken above the hearth to keep them dry and out of the reach from mice...
-Rectangles like Wäsabröd
-Or other cute shapes like swedish hearts...Gnomes...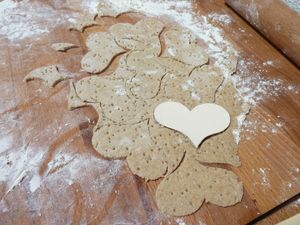 VII) Place on a lined or floured baking sheat, they do not rise much so they can be placed pretty closely together.
VIII) Spray (or brush) with a bit of water and sprinkle the chosen spice on top.
IX) Bake for about 4-5min at 180°C after turn the heat down to 50°C and leave to dry out for about 15min. Make sure to keep an eye on them they must be dry but light brown.
X) When done place on a rack until completly cool. Store in a airtight container.
Inspiration: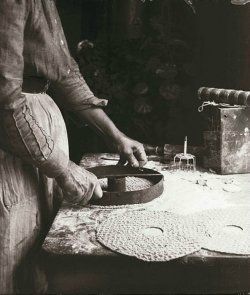 En Français...
Crackers! Knäkebröd fait maison, alias Wäsabröd
suite du défis Daring Bakers du mois de juillet
Ingredients:
1 packet (5,5g) levure boulangère
1 cc sel gris
2 tasses de farine de seigle
1 tasse de farine de blé T65
2 cs de miel
1 tasse de lait
épices (cumin, anis, fenouil, coriandre,...)
Méthode:
I) Disoudre la levure dans le lait. Réservez.
II) Après 5min, quand la levure a commencé à faire de la mousse, ajoutez le miel.
III) Avec une cuillère en bois incorporez le sel et les farines une tasse à la fois.
IV) Verser tout l'appareil sur votre plan de travail. Pétrir légèrement.
V) Formez une boule, couvrez d'un torchon humide et laissez dans une endroit chaud et humide pendant un certain temps, entre 1/2h et 2h.
VI) Préchauffez le four à 180°C
V) Abaisser la pâte au rouleau jusqu'à ce qu'elle soit assez fine. Pensez à bien fariner le plan de travail. Piquer la pâte à l'aide d'une fourchette, une pique-vite ou d'un rouleau spéciale appellé "Kruskavel".
VI) Découper la pâte dans les formes désirés:
-Traditionnellement en forme de roue avec un trou au centre pour qu'ils puissent être suspendus audessus de la cheminée, secs et à l'abri des souris...
-En rectangles comme les Wäsabröd
-Ou dans d'autres formes sympathiques comme des coeurs suèdois, des gnomes,...
VII) Alignez sur une plaque farinée ou couverte de papier sulfurisé les assez près les uns des autres, ils ne lèvent pas donc pas de risques!
VIII) Badigeonez légèrement avec un peu d'eau et parsemez de l'assaisonnement choisi.
IX) Cuire pour environ 4-5min à 180°C puis baissez la température à 50°C et laissez s'assècher au four environ 1/2h. Gradez l'oeil dessus! Ils doivent être bien secs mais marron clair!
X) Quand ils sont cuits, laissez les refroidir complètement avant de les conserver dans une boite hermétique.
Inspiration: