I like to make puff pastries. They're Easy, Fast and Impressive.
But I must admit that making puff pastry swans are just as easy, almost as fast and way more impressive!!
It was Kat from The Bobwhites that challenged us to make some of these beauties for august's Daring Bakers challenge, ok I'm very, very late but I have a really really really good excuse.
Here's the recipe that I followed, it yeilds about 8 swans:
Pâte à Choux:
155ml of water
50g of butter
a pinch of salt
75g of sifted flour
2 eggs
1) Make sure you have all the ingredients and utensils ready
2) Weigh or mesure out the ingredients. Preheat your oven to 200°C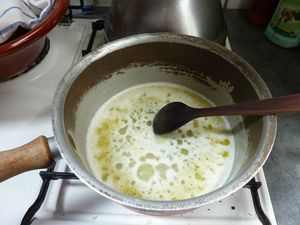 3) In a thick bottomed pan heat the water, butter and salt
4) As soon as the it boils take away from the heat. Incorpoate all the flour all at once. Stir energeticly so it all comes together.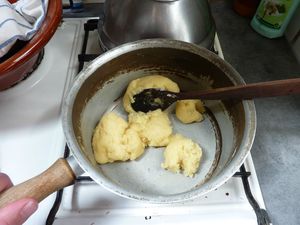 5)Put the pan back on the fire for a few seconds to "dry out" the dough a bit. It should form a ball, no dough sticking on the sides of the pan.
6) Transfer the dough to a bowl to cool down a bit before the next step.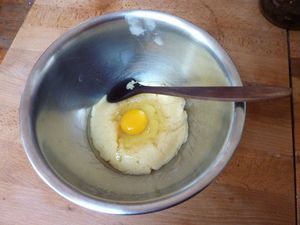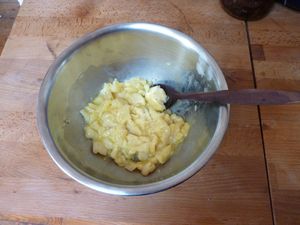 7) Incorporate the eggs one at a time. Make sure you have completly mixed in one egg before adding the next.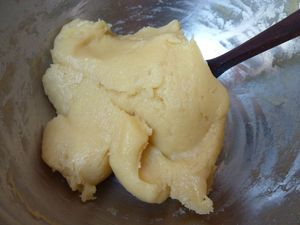 The dough should be firm, slick and shinny
8) Fill your piping bag, onto which you have fitted a faire large nozzle. On your first cookie sheet make the swans bodies. On another sheat make the swans necks and heads (with a smaller nozzle) because they cook a lot faster. The sheats should be buttered. Make sure to leave enough space between each choux, as the will double in size.
9) Bake for 15-35min depending on size at 200°C. The choux are cooked when the trenches are the same color as the rest. Half way through the baking time open the oven a tiny bit to let some of the steam out. But be carefull to not open the oven to early or too wide or else the choux will deflate!!
10) When cooked side aside on a rack to cool.
Crème Patissière:
1/2 l of milk
1 vanilla pod
3 egg yolks
60g of sugar
4 Tbs of corn starch maïzena
1/2 tea vanilla extract (optional)
1/2 tea almond extract (optional)
1) Heat the milk and the vanilla
2) Wisk the yolk and the sugar until the mix is foamy and white
3) Add the corn starch to the eggs. Mix well.
4) Slowly pour the hot milk on top. Stir constantly.
5) Thicken over the stove. Remember that the crème will get thicker as it cools down.
6) Add flavoring.
7) Cover with a sheat of plastic wrap and set aside to cool down.
Making the Swans:
1) Cut the "bodies" in half horizontaly
2) Use a pipping bag to cover the bottom half with crème patissière
3) Insert the head into the custard
4) Cut the top half of the "body" lengthwise
5) Place on top of the custard, positionning the cut side of the "wings" outwards.
6) Sprinkle with powdered sugar.
En Français...
Des Cignes!
J'aime bien faire des choux. Ils sont simple, rapide et ils en mettent plein la vue.
Mais je dois admettre que faire des cignes en pâte à choux est tout aussi simple, presque aussi rapide et carrément plus impressionnant!!
C'est Kat de The Bobwhites qui nous a défié de faire ces beautés pour l'edition d'août de Daring Bakers, bon d'accord je suis très très en retard mais j'ai une très, très, très bonne excuse .
Voici la recette que j'ai suivi, cela donne environ 8 cignes:
Pâte à Choux:
155ml d'eau
50g de beurre
une pincée de sel
75g de farine
2 oeufs
1) Rassemblez vos ingrédiants et le matériel.
2) Pesez et préparez vos ingrédiants. Préchauffez le four à 200°C.
3) Dans une casserole à fond épais, chauffez l'eau, le beurre et le sel.
4) Dés que l'eau boue retirez du feu. Incorporez d'un coup toute la farine. Mélangez énergiquement.
5)Remettre la casserole sur le feu quelques instants pour "sécher" la pâte. Quand cela forme une boule qui ni colle pas aux parois de la casserole c'est bon.
6) Transférez la pâte dans un bol pour refroidir un peu avant l'étape suivante.
7) Incorporez les oeufs un à la fois. Soyez sûre que chaque oeuf soit complètement incorporéavant de passez au suivant. La pâte doit être ferme, lisse et brillante.

8) Beurrez deux plaques de cuisson. Remplissez la poche à douille avec un embout relativement large. Formez les "corps" sur la première plaque. Sur l'autre avec en embout bien plus petit former les cous et têtes de cignes parce que ils cuisent beaucoup plus rapidement. Pensez à laisser assez d'espace entre chaque chou car ils vont doubler en volume.
9) Cuire pour 15 à 35min suivant la taille à 200°C. Les choux sont cuits quand les tranchées sont de la même couleur que le reste. A mi-cuisson, entre-ouvrir légèrement le four pour laisser s'échapper un peu de vapeur. Soyez vigilents de ne pas ouvrir trop, ni trop tôt car sinon les choux s'affaiseront!
10) Quand ils sont cuits mettre sur une grille pour refroidir.
Crème Patissière:
1/2 l de lait
1 gousse de vanille
3 jaunes d'oeufs
60g de sucre
4 CS de maïzena
1/2 cc d'extrait de vanille
1/2 cc d'extrait d'amande amer
1) Chauffer le lait et la vanille.
2) Fouettez les jaunes d'oeufs aves le sucre jusqu'à ce que le mélange blanchisse et soit mousseux.
3) Ajoutez la maïzena aux oeufs. Mélangez bien.
4) Versez le lait tout doucement sur le mélange aux oeufs sans cesser de remuer.
5) Faites épaissir sur un feux doux. La crème s'épaissira encore en refroidissant, pensez-y!
6) Incorporez les parfums choisis.
7) Couvrez d'un film plastique afin d'éviter qu'une peau de forme. Mettre de côté pour refroidir.
L'aAssemblage des Cignes:
1) Couper les "corps" en deux horizontalement.
2) Utlisez une poche à douille pour garnir la partie inférieur de crème patissière.
3) Inserez la tête dans la crème.
4) Coupez la partie supérieur en deux dans le sens de la longeur.
5) Placez sur le corps de tel façon à ce que le côté tranché soit vers l'extérieur.
6) Saupoudrez de sucre glace.
7) Disposez sur une jolie assiette et allez éblouir vos convives!