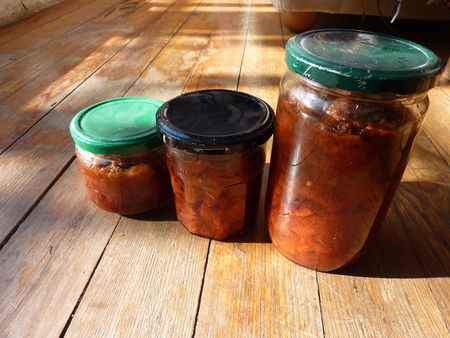 My thanks to Miss Nirvana for this chutney was inspired by her recipe posted on her blog Creating Nirvana
This post has been shared with the Hearth 'n Soul bog hop.
- Peel, seed and cut 1 medium size butternut squash in to cubes. (save the peels for stock and the seeds for toasting)
- Peel, core and cut 5-7 quinces in to cubes. (I kept the peels and cores to make vinager)
- Slice 5 sweet onions. (save the peels for stock)
- 1 cup dried cranberries
- 2 cups sugar
- 2 cups white vinager
- Spices: 4-6 sticks of cinnamon, 5-6 cloves, 1 tbs black pepper, 1 tea allspice, 10 pods of cardamon , 2 tbs chili flakes
Put all of the ingrediants into a big pot. You can put your spices in a cheesecloth if you want, personnaly i wanted to leave them in so that even after canning they would diffuse their flavors.
Slowly bring to a boil. Let the chutney simmer for a couple hours. Remember to stir occasionally to avoid burning your mixture. "It's ready when its glossy, thick, rich in color and well reduced--but with the chunks of fruit and vegetables still clearly discernible. It is thick enough if, when you draw a wooden spoon through it, the chutney parts to reveal the bottom of the pan for a few seconds." Creating NIrvana
Transfer the chutney into steralized jars. Seal the lids in boiling water for about 1/2h. "Store in a cool dark place for a couple of months to mature before using. Use within 2 years." Creating NIrvana
So far I've had this chutney with fried fish, pakoras and spread in a sandwich; I've loved it each time!
Tangy, sweet and spicy. I will diffinetly be making this again next year!!!
En français...
Chutney de Coings et de Courge
Je tiens à remercier Miss Nirvana du blog Creating Nirvana car cette recette à été inspirée par une création à elle.
Cette recette a été partagé sur le saut des blogs Hearth 'n Soul.
- Peler, épépiner et couper une courge butternut de taille moyenne en cubes (conserver la peau pour du bouillon et les graines pour les faire griller)
-Peler et couper 5 à 7 coings en cubes (j'ai conservé les peaux et les trognons pour faire du vinaigre)
-Peler et émincer 5 gros onions doux (conserver les pellures pour du bouillon)
- 1 tasse d'airelles séchées
- 2 tasses de sucre
- 2 tasses de vinaigre blanc
- Epices: 4-6 batons de cannelle, 5-6 clous de girofle, 1 cs de poivre noir en grains, 1cc piment de Jamaïque, 10 graines de cardamome , 2 cs de flocons de piment
Mettre tous les ingrédiants dans une grosse casserole. Si vous voulez, vous pouver mettre les épices dans une toile de gaze pour pouvoir les retirer facilement, personnellement je voulais les mettre en vrac afin que leur parfums se diffusent même après l'avoir mis en conserves.
Faites boillir tout doucement. Laisser mijoter pendant quelques heures. N'oublier pas de temps à autre, de remuer pour ne pas bruler la mixture. "C'est prêt quand c'est brillant, épais, riche en couleur, bien réduit mais que les morceaux de fuits et de légumes soient encore bien reconnaissables. C'est assez épais quand, lorsque vous passez votre cuillère en bois à travers, le fond de la casserole est révélé pendant quelques secondes. ." Creating NIrvana
Transferez le chutney dans des bocaux stérilisés. Seler les couvercles dans de l'eau boillante pendant une demi heure. "Conserver à l'abri de la lumière pendant quelques mois avant d'utiliser. Consommer dans les deux ans qui viennent.." Creating NIrvana
Pour l'instant j'ai mangé ce chutney avec du poisson frit, des pakoras et tartiné dans des sanwiches. Je l'ai adoré à chaque fois!
Acidulé, sucré et épicé. Je referrai certainement cette recette l'année prochaine!!!